week 3 prep and recipes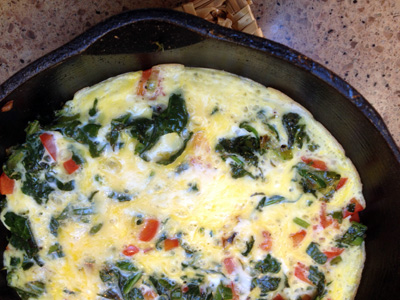 Just as with the first two weeks, it's best to do a little prep before you begin the week of recipes. Once again it would be helpful to cook up some quinoa and some brown rice for the week. Additionally, baked tofu is used, so get it ready ahead of time and cooking will be easier in this last week of the "Detox Cuisine" Cleanse.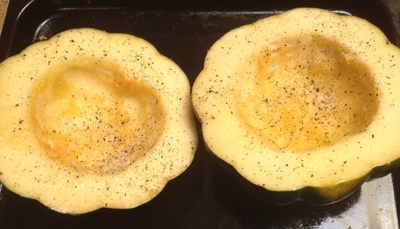 While I had the oven on, cooking the tofu, I also pre-baked the acorn squash that will be used for tonight's dinner.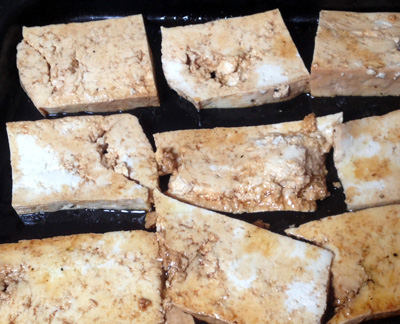 Baked Tofu
(to be used in two different recipes this week)
One 14-ounce package firm tofu, drained
2 tablespoons tamari (gluten-free soy sauce)
1   1/2 tablespoons olive oil
Coarse salt and freshly ground black pepper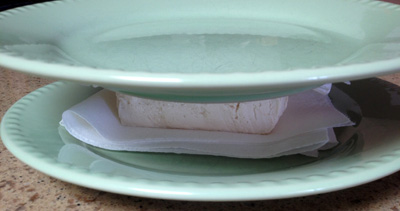 Place the tofu on a double layer of paper towels, lay another paper towel on top and press down lightly to remove the initial water. Remove the damp towels and replace with two fresh towels, weight down with a plate and let sit for 20 minutes.
Slice block of tofu into sixteen 1/4-inch-thick slabs and transfer to a large bowl.
Whisk together the tamari and olive oil and season with salt and pepper.
Drizzle dressing over tofu and marinate 20 minutes, tossing occasionally.
Heat oven to 350 degrees. Arrange tofu on a lightly oiled baking sheet and bake 10 minutes. Flip and bake 30 minutes more. Let cool.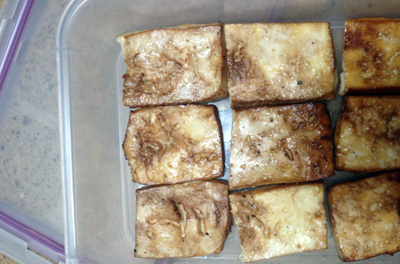 Makes 16 slabs
(Refrigerate tofu in an airtight container up to 3 days.)

Day One of Week Three
I didn't change anything on any of today's recipes.
Roasted Red Pepper and Kale Frittata
Shaved Carrot Salad With Baked Tofu