It's OVER!
Today is supposed to be the last day of the 3-week "Detox Cuisine" Cleanse. But in reality, it ended for me on Friday night. I always knew that I was not going to participate in the last day because I threw a 50th Birthday Party for my BFF, Peggy, last night.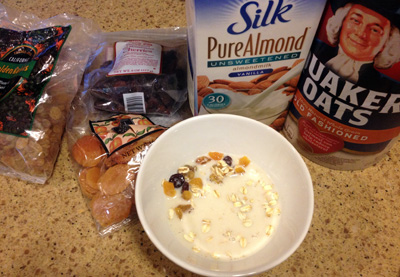 So although I thought that my last meal on the cleanse would be lunch on Saturday, I threw in the towel after lunch on Friday. I'd been cooking all day long for the party and just didn't have it in me to make something from the cleanse for dinner that night. Instead, Dave stopped at Pei Wei and brought home Chinese food.  It tasted So Good!
For anyone doing the cleanse, here are the recipes for today – Day 7 of Week 3 – the LAST day!
Spinach, Tofu and Brown Rice Bowl
So what are my thoughts on the cleanse? It was OK. I would not do it again, that is for sure, but it wasn't the worst thing either. The food was good tasting, for the most part. It was a lot of cooking, prep, and shopping.
I lost a grand total of 4 pounds – only 4 pounds after eating basically vegan the first week and only adding in fish the second, and eggs the third. No alcohol, no diary, no bread, no dessert, no fun – and only 4 lousy pounds! Yes, I know this wasn't a weight loss cleanse, but still, it was disappointing!
Did I feel healthier, more energetic, less toxic. No, I didn't feel anything but bored with the food and sick of it by the end of each week.
Now that it is over, I can concentrate on sharing with you all the party prep, photos, and recipes. That will start tomorrow. I'm a bit too hungover to share much more today!
Thank you for following me on the journey and for all your kind words of support.
Happy Sunday.