day one – week one
Here are the recipes for Day One of Week One of the "Detox Cuisine" Cleanse.
Mango-Tahini Smoothie
French Lentil Salad (my revised recipe is below)
Cleansing Broth
Creamy Broccoli Soup
You will want to make the Cleansing Broth first since you'll be using half of it for the soup recipe. Refrigerate the remaining half, it is used throughout the week.
The lentil salad is a keeper, cleanse or no cleanse. I changed the recipe just ever so slightly by cooking the lentils ahead of time and adding a bit more zip to the dressing.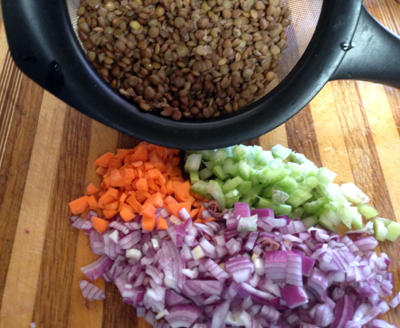 The original recipe had you cook the lentils in water along with with the sautéed vegetables. This would have caused the vegetables to become soggy. Additionally, they would lose all the caramelized flavor they developed in the pan while sautéing. That flavor, and the nutrients, would have gone right down the drain once the lentils were strained.


French Lentil Salad
2 tablespoons plus 1  1/2 teaspoons olive oil, divided
1 red onion, peeled and finely diced
1 carrot, peeled and finely diced
1 stalk celery, finely diced
1 cup French green lentils, rinsed, cooked, and drained according to package directions
Salt and freshly ground black pepper
1 tablespoon lemon juice
1 tablespoon red wine vinegar
1/4 teaspoon red pepper flakes
1/2 cup toasted almonds, roughly chopped
1 cup shredded red cabbage
1 cup torn fresh herbs, such as Italian parsley, tarragon, basil, and/or mint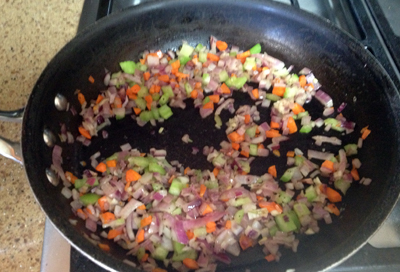 In a medium saucepan, heat 1 tablespoon oil over medium heat. Add onion, carrot, and celery, and cook, stirring occasionally, until just tender, about 5 minutes.
Stir in the cooked lentils and remove from heat, season with salt and pepper. Let cool to room temperature.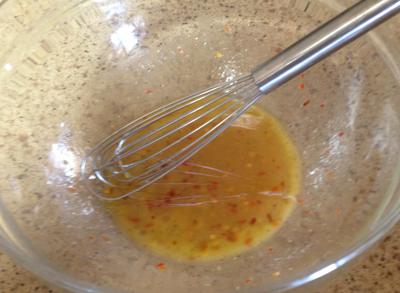 In a large bowl, whisk together the remaining olive oil, lemon juice, vinegar, and pepper flakes. Season to taste with salt.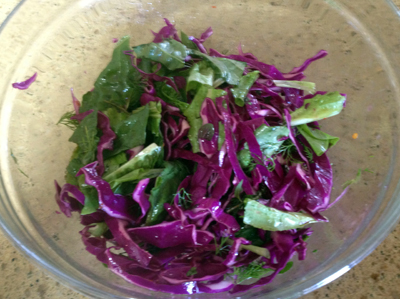 Add the cabbage and herbs and toss to combine.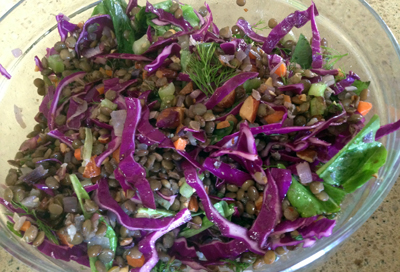 Stir in the lentil mixture and almonds and serve.
Makes 2 servings (the second serving will be used again for lunch on Day 3)
Refrigerate lentil salad in an airtight container up to 3 days.
Recipe adapted from Whole Living Magazine