day four – week one
Here are the recipes for breakfast and lunch Day Four of Week One of the "Detox Cuisine" Cleanse. The dinner recipe will follow tomorrow.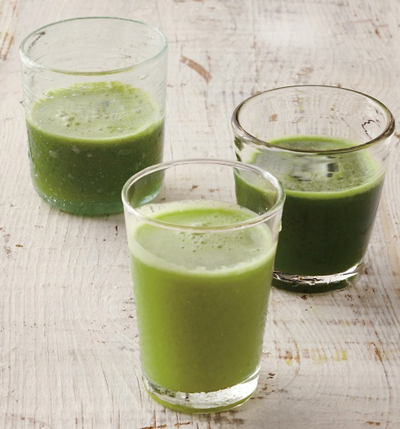 But before we get to the recipes, I want to share a little story with you. As you know, I'm doing this cleanse, long distance, with my Illinois BFF, Jennifer.
We talk everyday about what we like and how we are coming along. As we were talking yesterday, Jen started complaining about the heat from the red chile pepper in Tuesday's Cauliflower "Rice" Stir-Fry. As she was telling her tale, I said, "Oh, I hope you didn't buy and use a habanero!"
She said, "I don't know, I bought four of them, I'll send you a picture."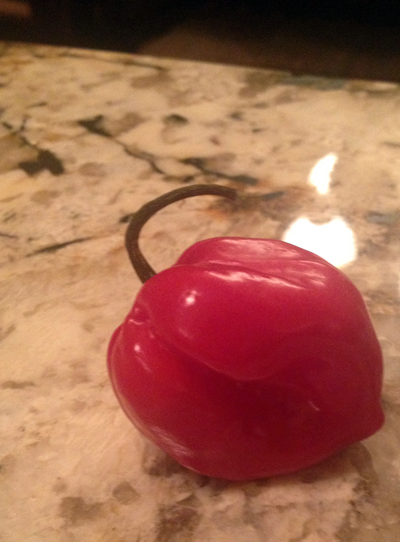 Sure enough, the poor thing used a habanero in her stir-fry. No wonder she was less than thrilled with it.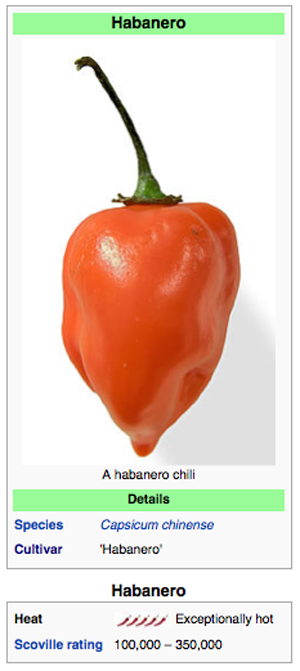 In case you don't know, a habanero has more than 40 times of the heat of a jalapeno!!!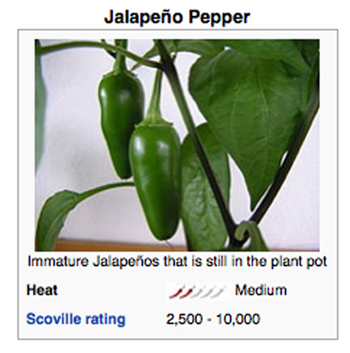 They are the devil's fruit!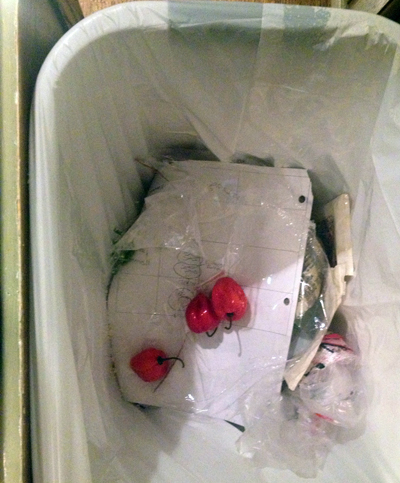 I told her to throw them away, in the trash can, never down the garbage disposal, unless you want to fumigate your house. That's what habanero chile peppers are good for!  Poor Jenny – too funny.
OK, back to breakfast and lunch of Day Four – Week One.
Pineapple-Spinach Juice
Cauliflower "Rice" Stir-Fry (leftovers from Tuesday, or throw out what you already made and start over if you made yours with a habanero!)
Roasted Portobellos with Kale -(will post tomorrow)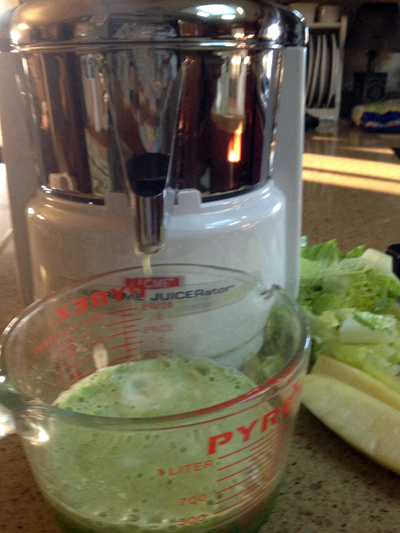 I went ahead and pulled the juice extractor from the garage to make the breakfast juice this morning.
The Verdict?
Fantastic! My favorite breakfast meal yet!
Problem is, you have to have a juice extractor for this one.
The recipe is called Pineapple-Spinach Juice, it should be called Pineapple-Romaine Juice or Pineapple, Romaine, and Spinach Juice.
It's misleading to name a recipe with one of the minor players off the ingredient list.
The recipe calls for 5 cups romaine, 3 cups pineapple, and only 1 cup spinach. The pineapple gives up the most juice, so even though there are 2 less cups of pineapple than romaine, giving the pineapple top billing works.
The spinach flavor is barely noticeable, it's obviously there for not only the nutrients but for the color as well. The romaine flavor is in the forefront, just behind the pineapple.
No matter, correct name or incorrect, it is a great morning pick-me-up! Next time, I'll add 1 more cup of pineapple. Delish!