cauli-fries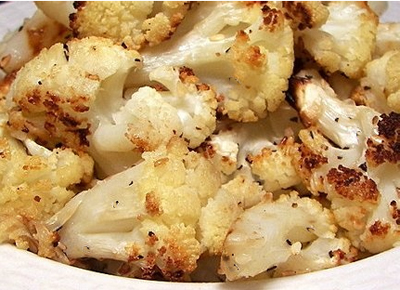 This recipe was inspired by an image I saw on Pinterest. In the caption, the "pinner" (a person who pins on Pinterest) said that this roasted cauliflower tasted just like French fries.  If that's not a selling point, I don't know what is!  I could not imagine that was true, and guess what? I was right. The little cauliflower morsels taste nothing like French fries, but they are quite tasty in their own right. A nice nibble or perfectly fine as a side dish.

Cauliflower "Fries"
1 head cauliflower
2 tablespoons olive oil
3/4 teaspoon salt
1/2 teaspoon freshly ground black pepper
Preheat oven to 400 degrees. Line a baking sheet with parchment paper.
Wash and clean the cauliflower. Cut off and discard the stem. Cut the cauliflower into small pieces.

The florets on the left are too big, cut them smaller, like the pieces in the center.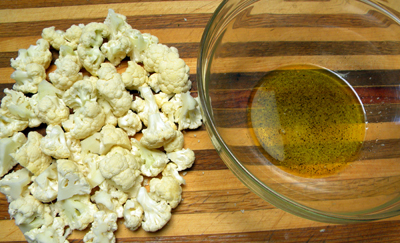 In a large bowl, combine the olive oil, salt, and pepper. Add the cauliflower pieces and toss to thoroughly coat each piece.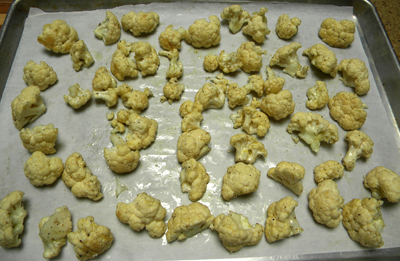 Place cauliflower onto the prepared baking sheet, leaving space between the pieces. Bake for one hour, turning pieces over every 15 minutes, for a total of  3 times during the hour, or until the cauliflower is a rich dark brown color.
Serves 4 as a side
Here are a few variations that I think would kick this recipe up a notch or two:
Substitute toasted sesame oil for all or half of the olive oil

Add 1 small peeled and minced garlic clove to the oil mixture

Add 1/2 teaspoon smoked paprika to oil mixture

Add 1 tablespoon soy sauce to olive oil mixture