better than the original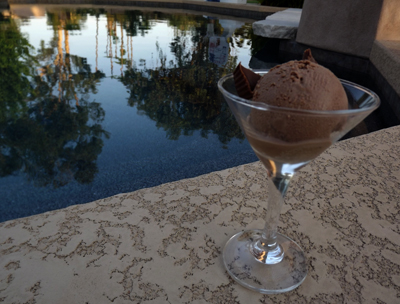 After you have this decadent ice cream, you may never want to eat a plain old peanut butter cup all on its own again!
Peanut Butter Cup Ice Cream
2 cups half-and half
2 cups heavy whipping cream
1/2 cup cocoa powder
1 cup sugar
Pinch of salt
1 cup creamy peanut butter
8 Reese's peanut butter cups, chopped into large bite size pieces
Whisk together the half-and-half, whipping cream, cocoa powder, sugar an salt in a large saucepan or pot.  Heat the mixture, whisking frequently, unit it comes to a full boil, watch carefully and be prepared to remove from heat, as it will foam up and boil over.  Remove from heat upon the boil and whisk in the peanut butter, stirring until completely and thoroughly blended.
Chill the mixture or place over an ice-bath, stirring until chilled, then freeze in an ice cream maker according to the manufacture directions.
Stir in the peanut butter cup pieces just before removing from ice cream maker.  Transfer to an airtight container and place in freezer until ready to serve.
Makes just over 1 quart