2 cocktails and 1 appetizer
I can't believe not one of you made a comment yesterday about my awesome tub photo.
Come on people, I cleaned up. I made sure the pumas stone, heel file, razor, shaving cream, loofah, and other junk was out of the photo. I'd had a pedicure just a couple days before, so my toes looked all pretty…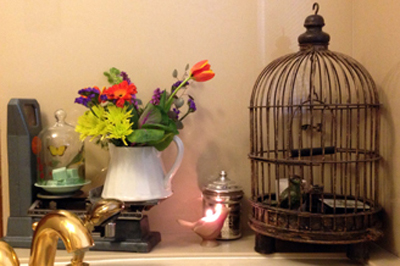 I even lit the bird candle!
And not one comment about any of it. I have to say, I'm a little disappointed.
Oh well, even so, I will still do as I promised and give you three recipes today. Three in one day! Yeah, no problem.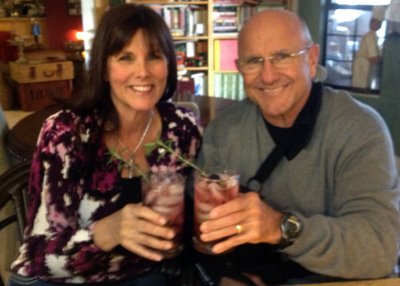 Karen and Bob enjoying their Blackberry- Meyer Lemon Gin & Tonics. Bob had shoulder surgery on December 26th, so my cocktails were a good substitute for any pain meds.
I'm just here to be of service.
Seriously though – Cheers to a speedy recovery, Bob!
Cocktail #1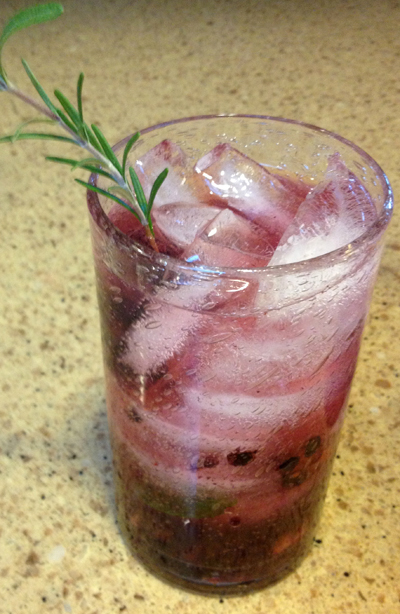 Blackberry and Meyer Lemon Gin and Tonics
20 blackberries
20 fresh mint leaves
2 Meyer lemons
1/4 cup simple syrup, chilled
Ice
12 ounces gin
Diet tonic water, chilled
Garnish
4 fresh rosemary sprigs
12 blackberries
Place 5 blackberries, 5 mint leaves, the juice of 1/2 a lemon, and 1 tablespoon simple syrup in each of four highball glasses and muddle the ingredients together in each glass.
Fill each glass with ice. Pour 3 ounces of gin into each. Top off each glass with tonic water and stir.
Garnish: Strip the bottom leaves of the rosemary sprigs. Use the sprigs as skewers and skewer 3 blackberries on each. Add to glasses and serve.
Serves 4
Cocktail #2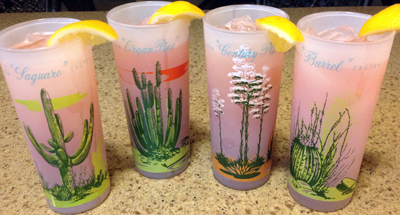 Meloncello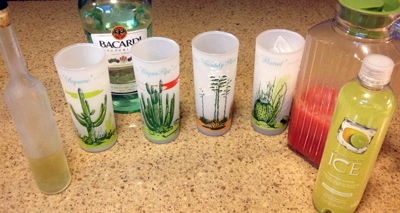 1 personal-size seedless watermelon
4 ounces limoncello, chilled
8 ounces light rum
Ice
Lemon-Lime sparkling water or soda
4 lemon wedges
Cut the rind off the watermelon, cut the flesh in half. Cut each half into large chunks and remove any visible seeds. (Yes, this is a seedless watermelon, but you know there are still those little white seeds. Remove as many of those as possible.) Place the chunks in a blender and puree.  Chill the puree for at least 2 hours.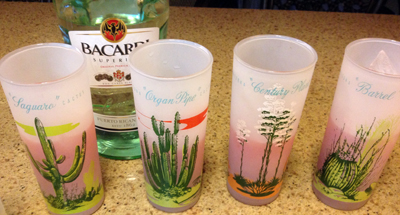 Fill 4 highball glasses half full with the chilled watermelon puree. Add 1 ounce of limoncello and 2 ounces of rum to each glass.
Fill each with ice and then top with the lemon-lime soda. Garnish each with a lemon wedge and enjoy.
Serves 4
… and the Appetizer

Smoked Salmon Dip
4 ounces cream cheese, room temperature
4 ounces light sour cream
2 tablespoons minced fresh dill
2 tablespoons minced red onion
1 tablespoon fresh lemon juice
4 ounces chopped smoked salmon
Belgian endive spears
Combine cream cheese and sour cream in a medium bowl. Stir in dill, red onion, and lemon juice. Gently stir in smoked salmon.
Transfer to a small wide-mouth Mason jar. Serve dip with endive spears.
Makes about 1  1/2 cups