San Fran, Saturday morning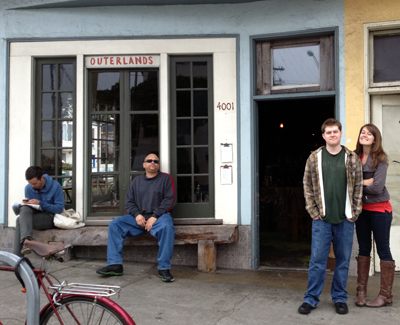 Last Saturday started out so very yummily!  Only a few blocks from Marissa's house is what is said to be one of the top 10 best places for brunch in the entire city. I hardily and happily agree! It is Outerlands, located in Outer Sunset at 4001 Judah Street. Although we could not make the brunch on Sunday, we did go there for breakfast on Saturday, and my oh my, if breakfast is this good, I can not image what brunch must be like!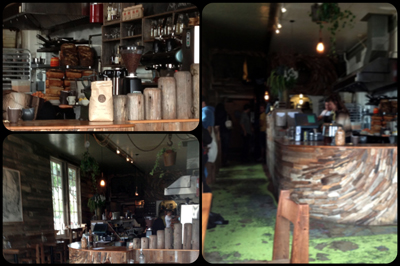 Additionally, it is rustically beautiful inside. You must get there at least 30 minutes before they open and write you name on the list that hangs on a clipboard outside the door. We did, so we were fifth on the list.  By the time they opened, the list was three pages long and the outside sidewalk was packed. Marissa says it's like that all time; morning, noon, and night.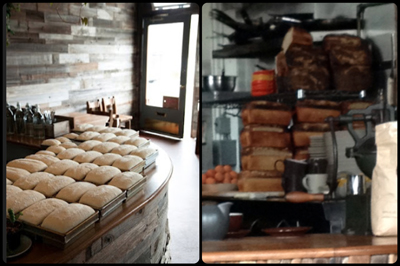 The bread is what really sends this place into the stratosphere. If I could bake bread like this, I would have more friends then I'd know what to do with!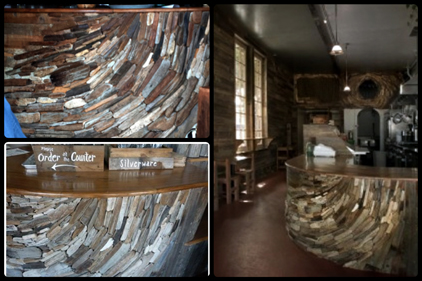 And the driftwood fronted counter/bar is one of the most beautiful things I've ever seen. Seriously. My photos do not begin to do it justice.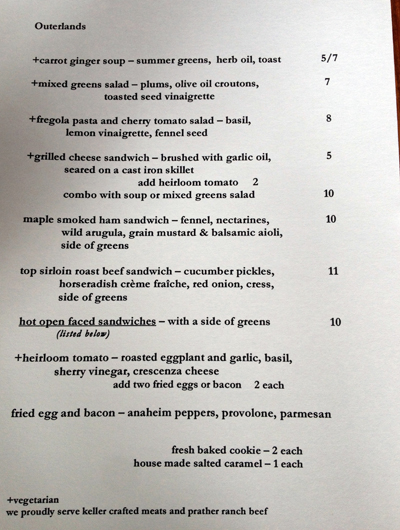 So what did we have? Mimosas, of course!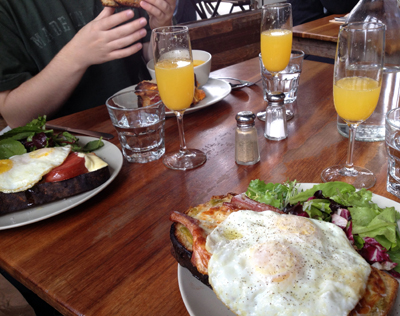 Connor had the humungous Grilled Cheese Sandwich with Heirloom Tomato and served with a cup of Carrot Ginger Soup.
He was taken aback a bit by the shear size of it – but somehow, someway, he managed to choke it down. Marissa and I each ordered a Hot Open Faced Sandwich with a side of greens -  served on that same out-of-this-world bread.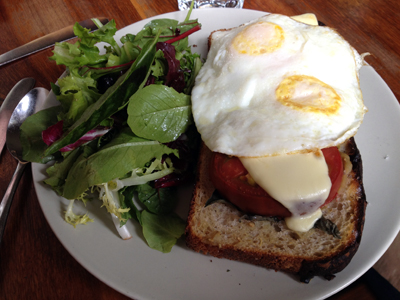 Her's was the Heirloom Tomato, Roasted Eggplant and Garlic, Basil, Sherry Vinegar, Crescenza Cheese with two Fried Eggs.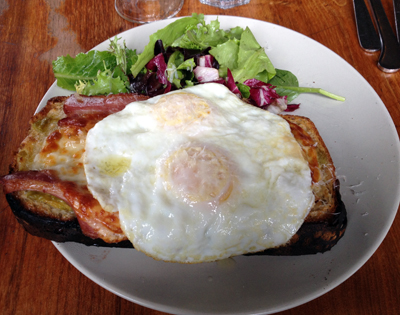 Mine was the Fried Egg and Bacon with Anaheim Peppers, Provolone, and Parmesan. Look at the thickness of that bacon. If it is possible to love bacon more than I already do… this was near the top of the list amongst the best I've ever had.
So…. do I recommend that you try Outerlands the next time you're in San Francisco. Yes!!! And if I happen to be there at the same time, please put my name on the list, then give me a call, I'll come running right over!