San Fran, Friday – Part 3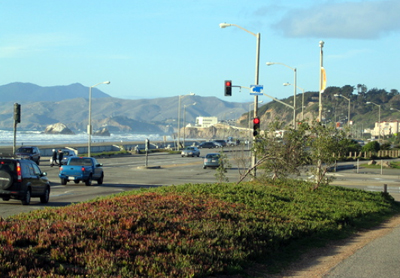 For most people, Lombard Street would probably make the #1 spot on their list of  "The Top 5 Streets I love in San Francisco."  For me, the top spot goes to the Great Highway. It forms the city's western edge along the Pacific coast.  It was on our way home from our Apple, shopping, and VW repair adventure, just as we were about to get onto the Great Highway, that Connor I decided to stop for lunch at Java Beach Cafe. And it was here that we spotted this San Francisco landmark.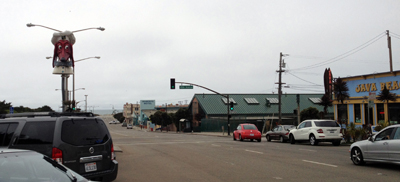 Do you see it? There is the Java Beach Cafe on the far right. And a green roofed building in the center (from here on out referred to as the "Evil Nursery") and there on the left, above the dark SUV – yeah, that is the landmark.  Official Landmark as of 2006, no less, number 254 on THIS LIST.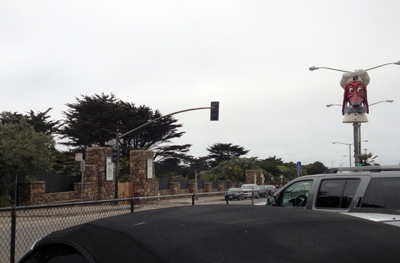 He stands tall on the median strip, at the corner of Sloat and 45th Avenue. On the opposite side of the street from the Evil Nursery and the Cafe, is the entrance to the San Francisco Zoo.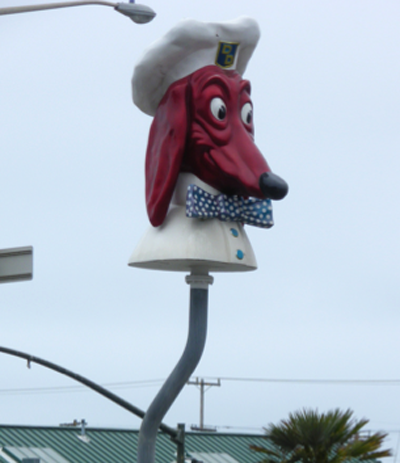 I'm sure you can easily see what attracted me to him. The toque (chef's hat). The chef's coat. And that adorable blue polka dot bow tie! Too darn kitschy and cute!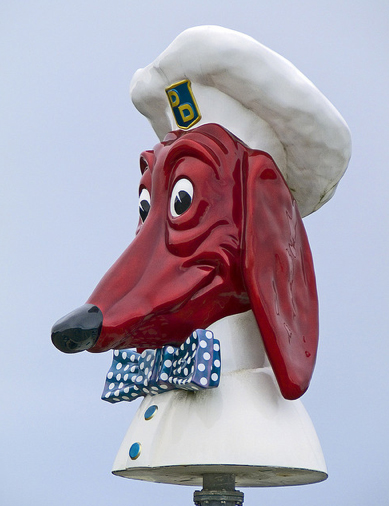 This final photo is from Flickr and gives you the best view of the handsome fellow. So how on earth did this get to be a beloved landmark?  This first quote is from the Flickr photo site.
"The 700-pound, seven foot fiberglass dachshund head at the median strip on Sloat Boulevard at 45th Avenue has reason to smile. Thanks to Diana Scott and Joel Schechter of Ocean Beach Historical Society and other concerned citizens, the Doggie Diner head, nicknamed DD, is back on its pole after going through repairs and a paint job following a hard fall during an April 2001 storm.

Doggie Diner was a local hamburger and hot dog chain that opened in 1949. To the regret of many locals, the chain closed in 1986, but the legend lived on. Nostalgic San Francisco residents visit DD regularly and tell their children about the good old days at the burger joint, which was originally located at Sloat Boulevard at 46th Avenue.

Illustrator Harold Bachman designed the doggie head in the 1960′s and says he is still surprised that people are enamored with DD. He designed it simply because he thought it would help sell hamburgers. Although DD is officially known to be the last doggie standing, rumor has it that doggie siblings are spotted around the Bay Area from time to time."
…and from [Tim Timberlake, 07/16/2001]
"The Doggie Diner opposite the San Francisco Zoo on Sloat Avenue has been a favorite eating and Dog Head viewing place for years (since the 1960′s). Recently this last remaining Dog Head has been under threat. The nursery next door bought the site and wanted to remove the Dog Head. Dog Head lovers from all over protested and the Dog Head was saved. Mother Nature then took action and toppled the Dog Head on its fiberglass nose during a windstorm.

The City of San Francisco went to work using other salvaged (saved) Dog Heads, owned by a fellow in Emeryville, as patterns. The Sloat Avenue Dog Head has been restored and placed back on his pedestal across from the zoo and next to the evil nursery."
You can check out THIS, or THIS, or THIS to learn even more. And there you go, more than you ever wanted or needed to know about The Doggie Diner head. Oh, and by the way, the sandwiches at Java Beach Cafe were excellent.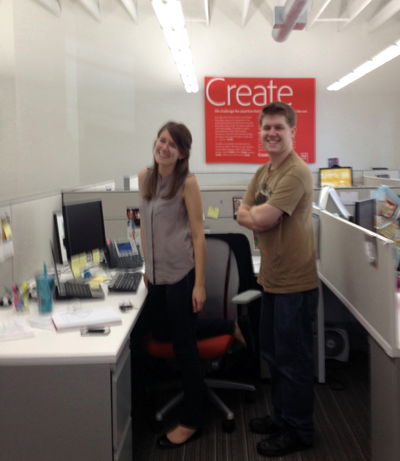 After lunch, we took the Great Highway back to Marissa's house and I fixed the toilet and did a few other things around the house. Then we hopped back in the car and drove back to San Mateo to pick her up from work.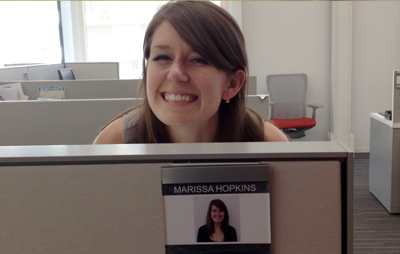 How cute is she??!!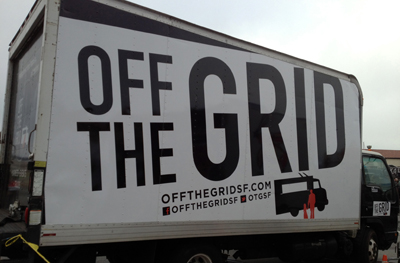 Then we did just the funnest thing for dinner… we went to Off The Grid at Fort Mason. A food truck/street vendor event. Or in their words, "A roaming mobile food extravaganza — brings you delicious food, with free sides of music, craft and soul."
Fort Mason, which was once known as San Francisco Port of Embarkation, US Army, is a former United States Army post and is now part of the Golden Gate National Recreation Area and the site of several cultural facilities. It is easy to see why, it is a wonderful setting, as evidenced from the photo above!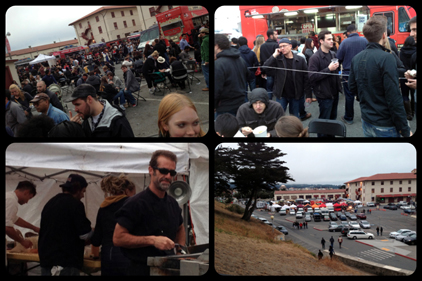 The three of us had a fantastic time, each finding our own food truck to order from.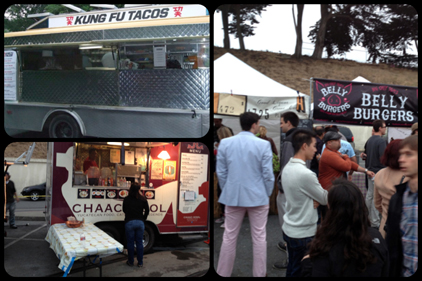 Connor found his Beef and Shrimp Burrito from the Kung Fu Tacos truck.
Marissa bought her Cochinita Pibil Salbute (a soft Yucatan tortilla with chicken) at Chaac Mool Yucatecan (now that's a mouthful!).
And I scored my Dick Bombay Belly Burger from Belly Burgers.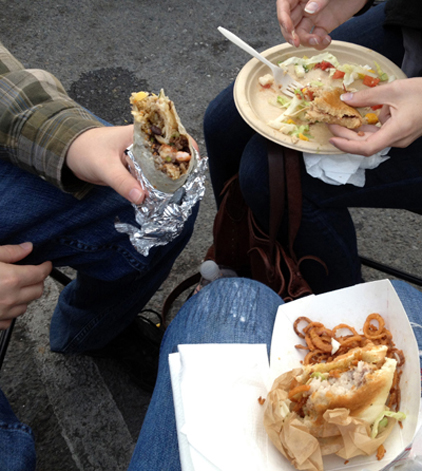 I'm going to go out on a limb and say that I made the best choice! My Dick Bombay; ground pork belly patty in a toasted buttered bun, topped with Almond Cumin Slaw and Crispy Curried Onions was outstanding. I ordered it with a side of Curry Fried Onions that the three of us shared – So Yummy!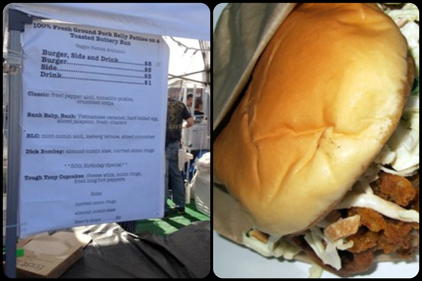 Of course, we had beer, wine, and dessert too. The cupcakes from Cupkates were to die for!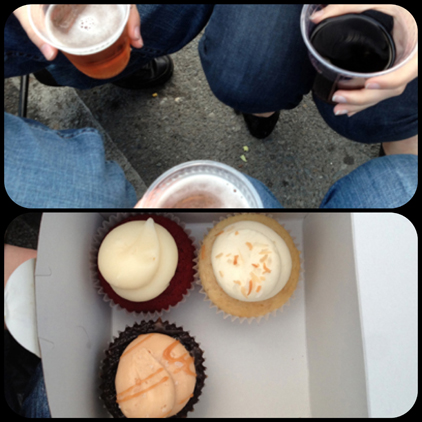 We jointly rated three flavors we purchased. In order of our good, better, best; Red Velvet (Buttermilk chocolate cake with a bright red hue, topped with cream cheese frosting), Coconut Cream (Coconut flecked cake filled with coconut cream and topped with sweetened whipped cream, topped with toasted coconut), and Salted Caramel (A moist chocolate cake topped with caramel buttercream and sprinkled with flaked sea salt).
Now, I'm seriously itching to make my own salted caramel cupcakes!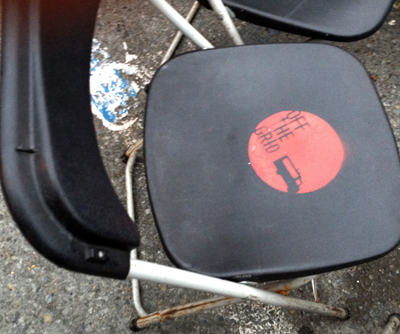 The list of trucks is so impressive (see end of post in which I've even included links) that I'm thinking that visiting Off The Grid will be our new San Francisco dining tradition!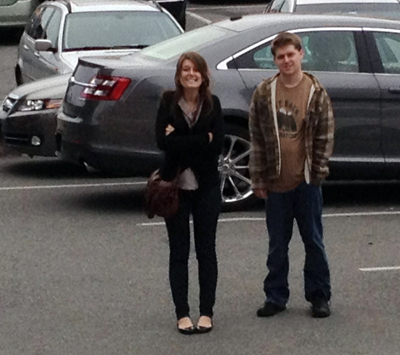 Featured Vendors:
AK Double Up
Alicia's Tamales
Azalina's Malaysian
Belly Burgers
Bombzie's BBQ
Chaac Mool
Cholita Linda
Creme Brulee Cart
Cupkates
Curry Up Now
Delicioso Creperie
El Porteno
Fat Face
Gohan
Hapa SF
Happy Dumplings
Kirimachi
KoJa Kitchen
Kung Fu Tacos
Lima Peruvian
Little Green Cyclo
Onigilly
Peter's Kettle Corn
Phat Thai
Senor Sisig
Seoul on Wheels
The Chairman (by far the most popular truck, had wrap around lines, like Disneyland and we heard it was a 45 minute to hour wait.)
The Taco Guys
Wing Wings
Alembic
Magnolia