San Fran, Friday- Part 2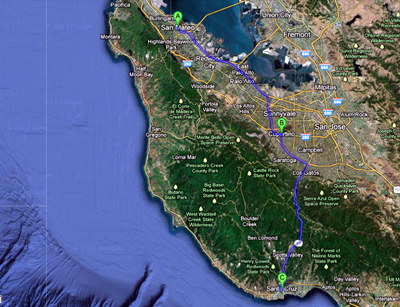 In yesterday's post, I purposely left out something that we did on our way to Santa Cruz. About halfway between San Mateo and Santa Cruz sits the city of Cupertino. If you have an Apple product, you've heard of Cupertino. It is the time zone setting on every Apple device; from the iPhone, and the MacBooks, to the iPad. I know this, because I've reset it on every Apple item I own.  Let's see – Marissa and I are both on our second MacBooks, Connor has one, I asked for and received an iPad for Christmas and then didn't use it much, so it now belongs to Connor, each of the three of us has an iPhone and we all, of course, (including Dave)  have iPods. Once we get rid of Dave's stupid Blackberry and his horrid PC and buy him an iPhone and a big old desktop Mac, our transition will be complete to a true Apple-only family!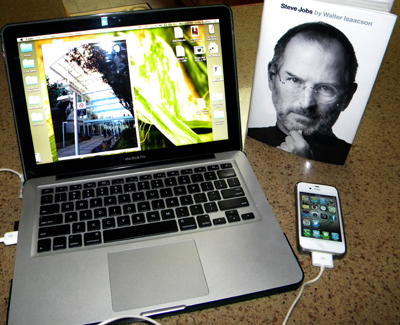 Yes, I happily guzzle the Kool-Aid, in fact, give me some more! I'm thinking that Apple TV may be my next move. Besides all of the Apple stuff we have, I've been a bit obsessed with the subject because I've been reading Steve Jobs by Walter Isaacson. It is the authorized biography that was released soon after Jobs death in October 2011. What a complicated, brilliant, narcissistic ass he was! I started the book the Tuesday before we left and finished on the plane, on our way home. I highly recommend it if you like biographies, Apple, tech stuff, Steve Jobs, or just want to learn about the impact on our culture and way of life that Jobs most certainly made. Whether you own an Apple product or not!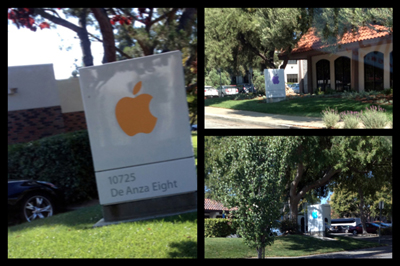 Cupertino is mentioned on about every page, so a stop there was a must. I had no idea where we were going, so we drove into town and started to look for Apple.  It didn't take more than a minute before we saw buildings with the Apple logo on the signs.
I knew there had to be a bigger grander place than these little buildings, so I asked Siri (on my iPhone 4s) to direct me to Apple headquarters. She came through with flying colors. I have a love/hate relationship with Siri.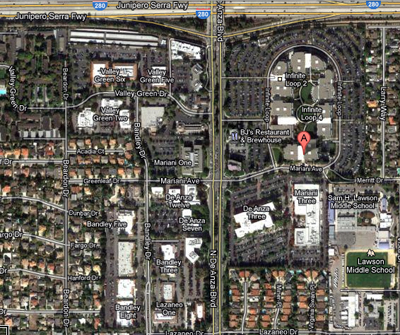 In the photo above with all the different colored apples on the signs, we're at the De Anza buildings, which are the in the lower left of the map directly above. There are also Mariani, Bandley, Lorzeno and Valley Green buildings, which are all named after the streets around them. So basically, every building you see with a white roof belongs to Apple. Then there is One Infinity Loop.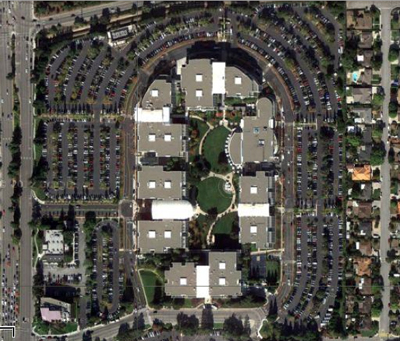 This is the headquarters.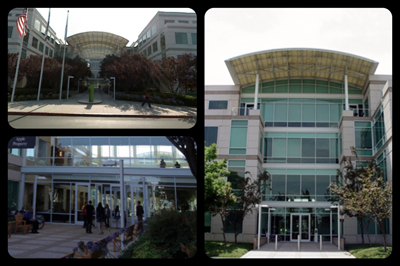 I was hoping for a tour of some sort, but they don't have one, it is a "closed campus". There is the "Apple Company Store" to the right of the front entrance. It's basically a small Apple Store, where I purchased a sweatshirt. I had hoped for more, oh well.  We did visit the restrooms and appreciated the pixelated symbols on the doors.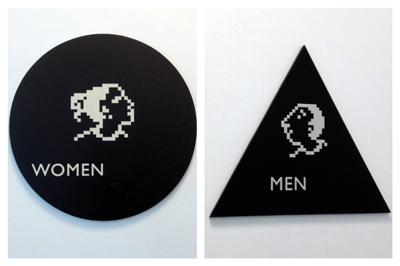 A new headquarters, designed by Steve Jobs, set to open in 2015, is being built down the road. If you're interested, you can check out more about it here, here, or here.
I know I said that I'd post about the San Francisco landmark we found while lunching and all about where and what we ate for dinner, but again, this is too long, so tomorrow I promise!