more cookbooks
This past Wednesday, the day that the article about collecting recipes came out in the Arizona Republic, I received a call from a elderly gentleman in Mesa. He left me a message saying he'd read the article and thought I might like to have his deceased wife's collection of cookbooks.
With the hundreds of cookbooks I already own, it may not seem as though I am picky about what cookbooks I have, but honestly, I am quite selective.
I called back and after I listened to the man's story of losing his beloved wife and the bookshelves of cookbooks that he wanted to empty and be rid of – I said, "Yes, I will be happy and honored to come over and take the books off your hands."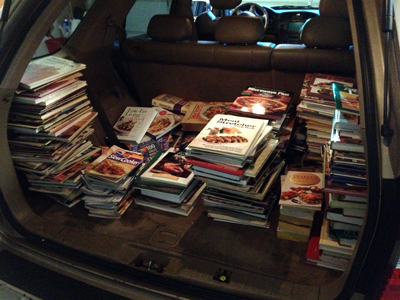 Connor, my dad, and I, drove to his home in Mesa and piled all the books into the back of my car. Once we got home I went through them, hoping to find a treasure or two.
Guess what? I found my treasure – the kind of gift that just keeps on giving.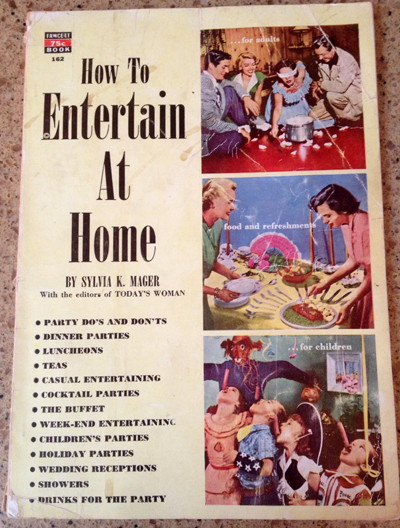 It's called "How to Entertain at Home" by Sylvia K. Mager with the editors of Today's Woman. Published in 1952 by Fawcett Book. Its 142 glorious pages sold for a mere 75¢.
And yes, that bottom photo on the cover is of children trying to bite at hot dogs dangling on strings from the ceiling!
Please allow me to share some of the important requirements for entertaining in 1952.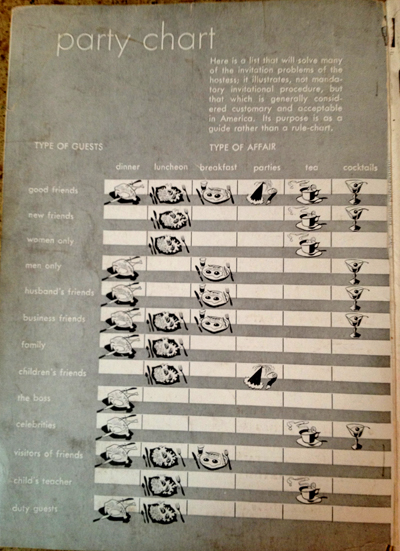 Inside the front cover is the Party Chart ~ "Here is a list that will solve many of the invitation problems of the hostess, it illustrates, not mandatory invitation procedure, but that which is generally considered customary and acceptable in America. Its purpose is as a guide rather than a rule-chart."
Across the top is the "Type of Affair"
~ Dinner, Luncheon, Breakfast, Parties, Tea, Cocktails.
And down the left side is the "Type of Guests"
~ Good Friends, New Friends, Women Only, Men Only, Husband's Friends, Business Friends, Family, Children's Friends, The Boss, Celebrities, Visitors of Friends, Child's Teacher, Duty Guests.
Now I ask you ~ What is a Duty Guest?
Celebrities? Enough everyday people in 1952 knew a Celebrity to make it a category onto itself? Awesomeness!!!
Why are Good Friends invited to all 6 types of affairs but Family only to Dinner and Luncheon?
Why are only Good Friends and Children's Friends invited to Parties? That's not right!
And most importantly, why aren't Women Only allowed to have Cocktails?!?  Now that just makes me mad and grateful that I was not yet born and was not entertaining in 1952.
That is seriously not right! If there is one "Type of Guest" who needs to be invited to Cocktails, it is Women ONLY!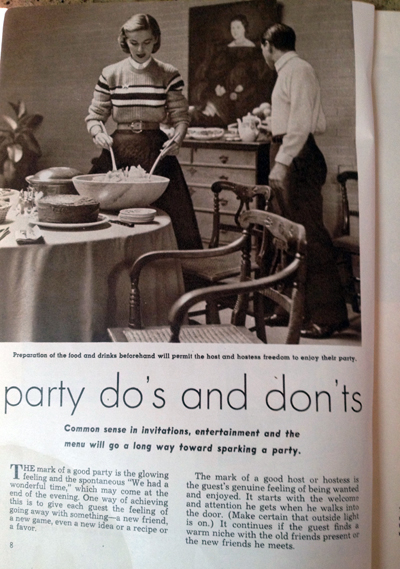 As you ponder those important questions, let us move on to Party Do's and Don'ts.
There is a whole page on Forms of Introduction and most still hold true today. By far, my favorite is this gem ~
"You introduce your husband to anyone. You may call him 'my husband' or 'Sam,' but not 'Mr. Host'." 
I did not know that! I may have embarrassed myself ~ thank goodness I have this handy book as a reference for this sort of hostess situation.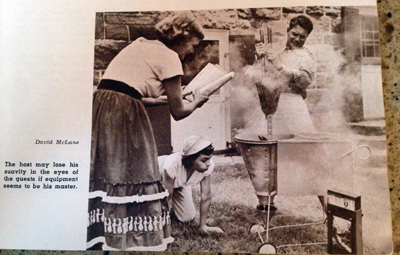 There is a bounty of fabulous photos. I so wish I could show them all to you! This one will have to suffice. The caption reads, "The host may lose his suavity in the eyes of the guests if equipment seems to be his master."
Suavity!
Great Word!
Word of the Day!
I am going to try to use it as often as possible.
And what on earth is that contraption he is trying to use? A grill? I very much wish I had one, so vintage, so unique, so fabulous! (I'm not being sarcastic here – I really do want one!)
I love how the women are desperately trying to help; one reading the manual, the other is seen blowing on the fire at the bottom! Seriously, I could not love this more!
Then we have "the matter of help."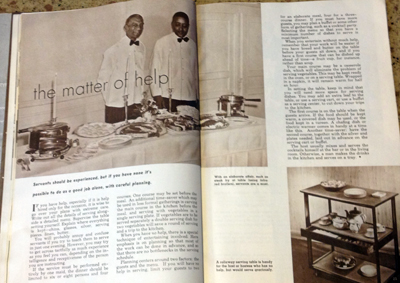 Obviously, the Civil Rights Movement was not in full swing yet… this photo is reminiscent of the 2011 movie, The Help ~ love that movie!
Here is a quote ~ "You will probably annoy and confuse servants if you try to teach them to serve in just one evening. However, you may try to get across tactfully as much experience as you feel you can, depending on the intelligence and receptiveness of the person you are instructing."
For real!
Word for word.
Wow!
Just in case you are looking for new party themes …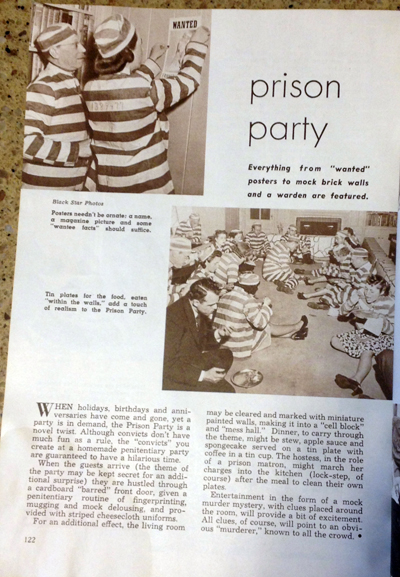 … here are just two of the dozens suggested. The always popular Prison Party and a party to celebrate that most important holiday – Washington's Birthday.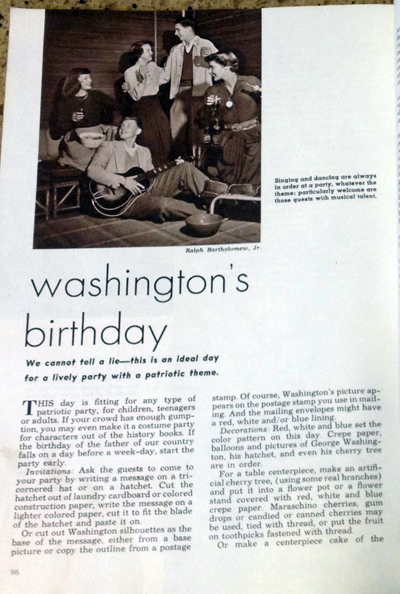 It never occurred to me to celebrate either one of those.  Now that it's planted in my brain … keep an eye on your mailbox for an possible invite!
Finally, I did find something I may actually use. A cool chart of different glass shapes. From Rhine Wine glass to Peach Champagne.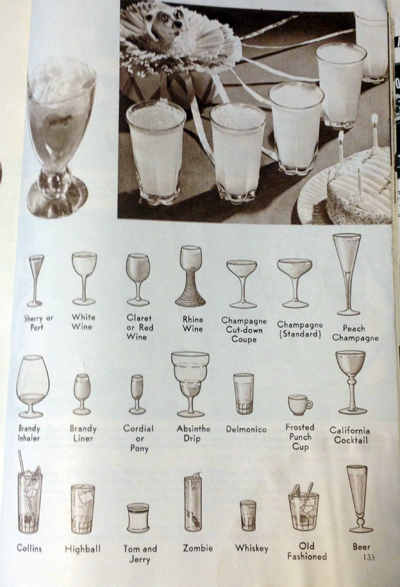 Now, I just need to figure out what I am going to do with the rest of the couple hundred books stacked in my garage. Let me know if you are interested in looking through the stacks.
Again, I understand it may be difficult to tell – I am not being sarcastic – I am serious.