blog rules?
Good Sunday Morning!  Is this image not one of the most beautiful things you have ever seen? I can not begin to tell you what joy it brings to me. Peace, happiness, calm, just joy! Keep reading to learn where it came from…
Yeah, so guess what I just read on, Heather Bullard – Lifestyle Blog, which by the way, is where the gorgeous image came from and is one of my very favorite blogs in the whole wide world?  This is what I read….
"Posting on a Saturday. I'm sure I'm breaking all kinds of professional blog rules."
What?!? Posting on Saturdays is against "professional blog rules"?  Man, am I ever in deep trouble. Not only have I posted on a Saturday 135 times, but as of today, I've put up a new post 141 times on a Sunday in the nearly three years since I created this space. I'm guessing that if posting on Saturday is against the rules, then posting on Sunday is … well, nothing short of sacrilegious!
There is not much to be done about it now, except to say that maybe I don't qualify as a "professional blogger" since I don't have any advertising on here and I'm not being paid. Don't you have to be paid to be a "professional"?  Hey, that may be my loophole. It is true that my stats indicate significantly lower readership on weekends, so maybe there is something to taking a couple days off each week.  I am considering it, especially because I need to not post 12 times in the next several weeks to make something magical happen. As I said above, it's been nearly three years since I converted my cooking school website from a plain old website into a fancy-dancy blog.
August 16 is my 3-year Blogiversary. And yes, that is a word, check it out HERE or go to Google Images HERE and see for yourself. In fact, I'll probably swipe one of those blogiversary Google images to use here on August 16th!
I digress… so if I do not post 12 more times between now and August 16, then on August 16, I will be putting up my 1,000th post! ONE THOUSAND! Holy Moly, that is a lot of talking and typing and thinking and cooking and cleaning-up from cooking, and creating!!! (See what I did there? Three "T" words, followed up by three "C" words…. creative!)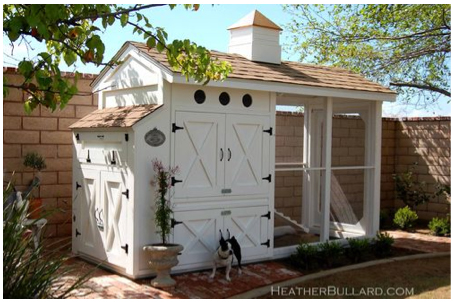 Talk about creative, back to Heather Bullard and her wonderful blog. Now that woman is creative, exemplified, in full bright and beautiful living color! I LOVE her blog, even if she does have the inside track on blog rules – that I know nothing about. And as you may have already guessed, every single image on this post is from her blog.  Boy oh boy, can that woman take a picture! If you have not already discovered her blog, you must go there now. I guarantee that you too, will fall in love. The image above is of her chicken coop, Chez Poulet. Yeah, I bought the floor-plans for Chez Poulet, and yes, someday (hopefully soon) I will hire a contractor to build it for me! I am serious! And when I do, I shall have a housewarming party for my little chicks, and I will invite all of you! Now stop reading this and go over to Heather's blog and get out there and break some rules of your own today! xoxo