San Fran – Sunday
I know what some of you must be thinking. "Will these San Francisco posts ever end?" Please continue to indulge me… this is the second to last. And the post tomorrow, the last one, has an extra special treat at the end that I am SO excited about! Hang in there baby!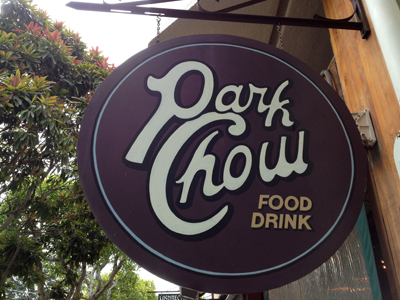 After Connor so graciously endured the day of shopping, spa time, and Jägermeister, Marissa and I decreed Sunday as "Connor Day." First order of business on "Connor Day" was breakfast. We chowed down at Park Chow, located in the Sunset District. The food was good, but did not come close to what we had the morning before at Outerlands.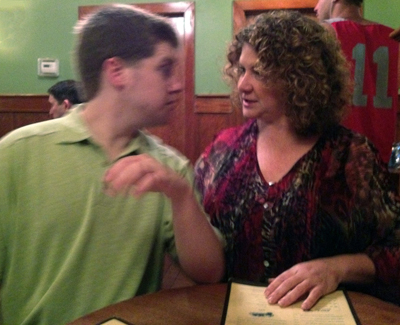 Yesterday, I posted photos of Marissa looking annoyed with me.  This day, apparently, Connor was – what a look!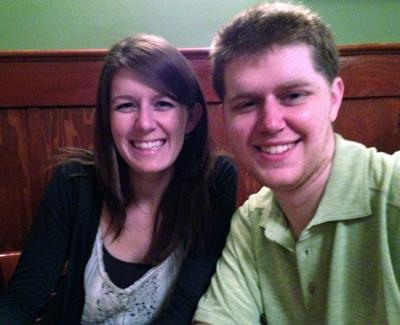 Aww… sibling love!  After breakfast we took a quick detour from "Connor Day"  ("quick" as what a girl would think of as quick… not so much what a boy would think of as quick) in a cute clothing boutique, where I bought Marissa a beautiful teal dress and nude pumps. And we were again on our way.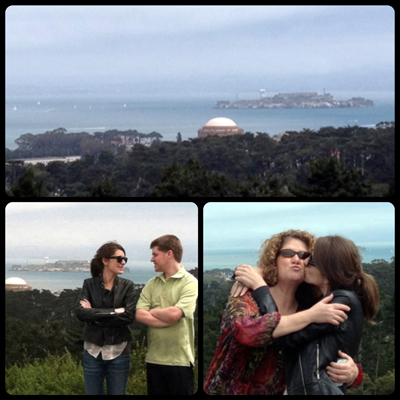 First stop, the awe-inspiring Inspiration Point Overlook in the Presidio. Back in the car for the very short drive to The Walt Disney Family Museum.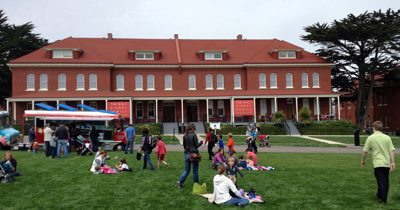 The 40,000 square foot Museum, located in a historic brick building, once a barracks on the main post of San Francisco's Presidio, opened on October 1, 2009. Co-founded by Walt's daughter, Diane Disney Miller, and grandson, Walter E.D. Miller, the Museum is owned and operated by the non-profit Walt Disney Family Foundation.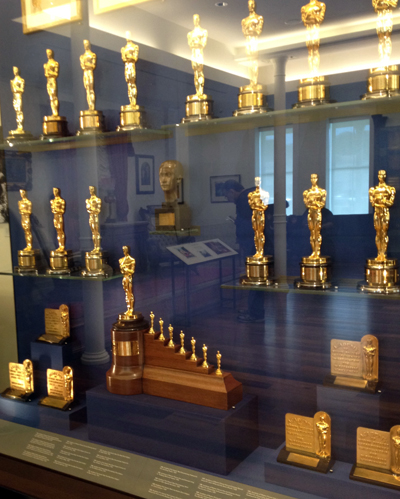 In the lobby (the only area photos are permitted) you'll find Walt Disney's 26 individual Academy Awards, as well as the unique honorary award for Snow White and the Seven Dwarfs, which consists of one full-sized Oscar alongside seven miniature ones. It was presented to Disney in 1939 by 10-year old child film star, Shirley Temple.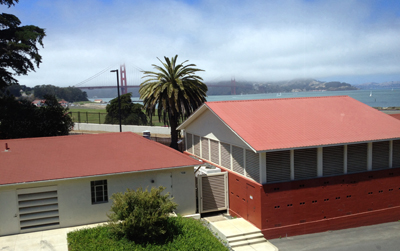 The rear of the museum features a glass wall offering a panoramic view of the nearby Golden Gate Bridge.  If you plan to go, schedule at least 2 to 3 hours, there is a lot to enjoy!  Next stop…. Chinatown.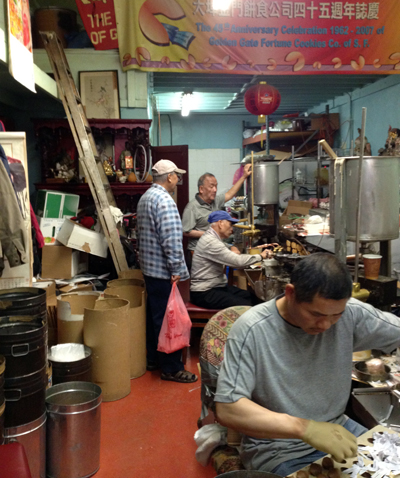 We were making the stop in Chinatown to "tour" the Golden Gate Fortune Cookie Factory. Turns out the "factory" is a hole-in-the-wall, down a narrow alley, with some seriously crabby proprietors. It was actually quite hysterical. They pretty much yelled at visitors the entire 3 minutes we were in there. Yelling and motioning for us to get out, as the store filled up. And then there is this charming notice.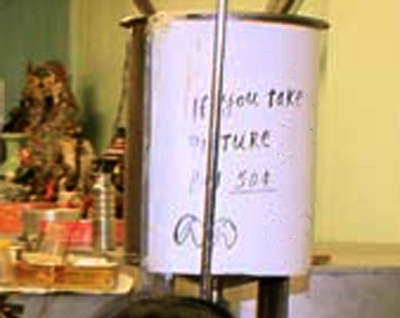 In case you can't make it out, it reads, "If you Take Picture Pay 50 cents"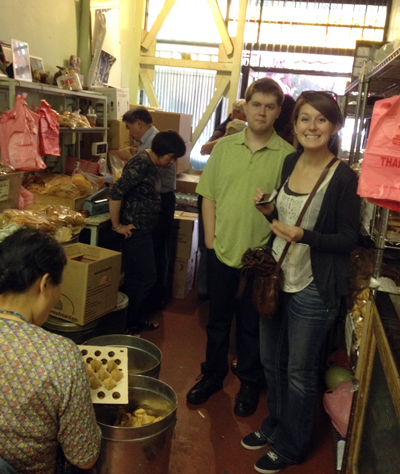 The man and women who are visible behind Con and Marissa in this photo are the crabby people. Check out Connor's face! I think he is afraid! I snapped this picture right after the woman demanded the 50 cents, even as Marissa was trying to hand her a dollar bill. We gave her the full dollar since both Maris and I planned to take a picture each. In protest to the bad attitude, I snapped off 10 shots and Marissa got two. Take That, nasty lady.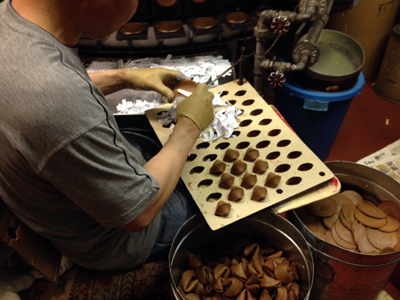 They really need some customer service training! Oh, and don't go thinking too badly of me for "stealing" photos, I bought a bag of their fortune cookies prior to being nearly shoved out of there.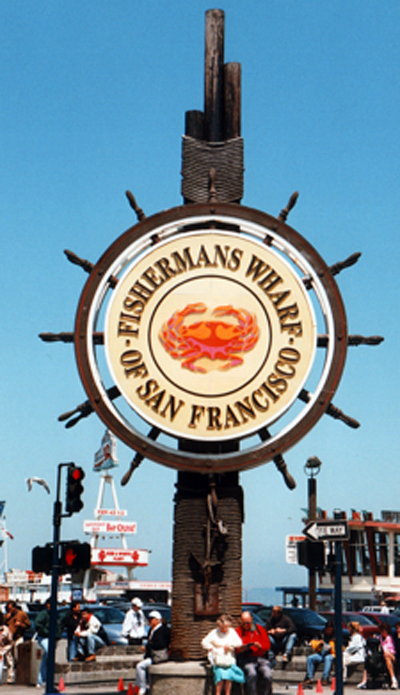 We'd planned on eating lunch in Chinatown, but the dim sum place that came highly recommended was take-out only and we really wanted to sit down and be served. Marissa started scrolling thru Yelp for another suggestion and decided we didn't want to eat in Chinatown after all.  Instead we swung by to pick up Jeff and headed for Fisherman's Wharf and Pier 39.  Normally, we wouldn't get close to there on a weekend, but our next stop was to be the another San Francisco treasure, the Musee Mecanique. More on that tomorrow -in my final San Fran post.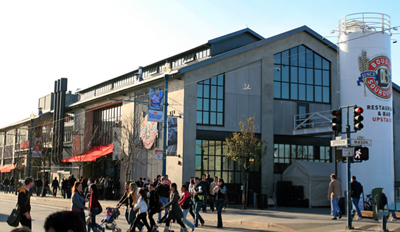 First we had to eat, it was 4 o'clock and we hadn't had more than a fortune cookie since breakfast. So we did what just about everyone does when they eat at at the Wharf - we went to Boudin Bakery. It's hard to resist that soup in the bread bowl!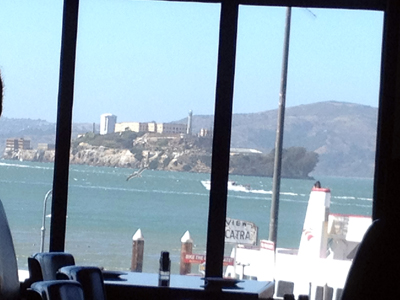 We had a leisurely late lunch – early dinner and dined upstairs in the Bistro, overlooking the bay and Alcatraz. Such a great view!
Petite Sourdough Bread Bowl filled with Crab & Corn Bisque. Yes Please!!!