dinner for 10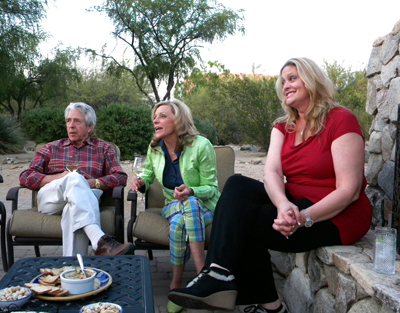 Terry, Barbara, and Sloane
All day long while Jacques, Barbara, Henry (executive producer), Kim, Sloane, Terry, and I were busy at the taping – others were slaving away as well. My husband, Dave, was working like a dog on taxes (it was April 15 after all, but the "real" April 15th was still two days away, if you know what I mean). Henry's wife, Jesse, was working like crazy because they have two young sons… and we all know what hard work that is! And Kim's husband, Paul, was at home, cooking up a storm!
So after the show had wrapped and we all made ourselves as presentable as possible in 10 minutes… we rejoined at Paul and Kim's gorgeous home, for an intimate dinner for ten.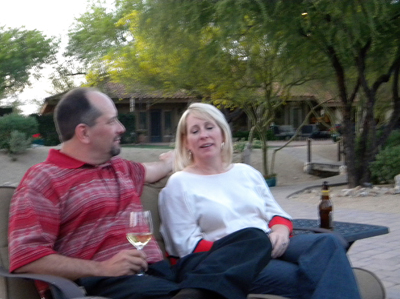 Henry and Jesse
We started out with wine by the fireplace on their "back forty".  Kim brought out Baguette Slices topped with Wild Mushrooms, Comté, and Roquefort along with a terrine of Jacques' Chicken Liver Mousse brought over from the set.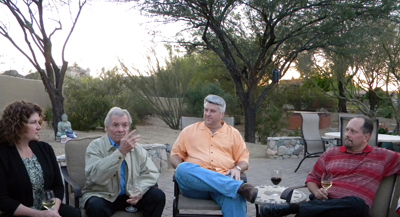 Linda, Jacques, Dave, and Henry
The conversation and the wine easily flowed as we recounted the days' events and as Jacques entertained us with a choice few of his many wonderful stories. Then we headed inside to Kim's stunning dining room table, which I should have taken a picture of, darn it.
Here is the scrumptious menu that Paul created for us: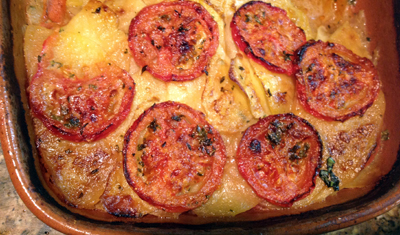 Arugula, Avocado and Grapefruit Salad
Rotisserie Paprika Chicken
Potato and Caramelized Onion Gratin
Sonoran Roasted Peppers
Lemon Asparagus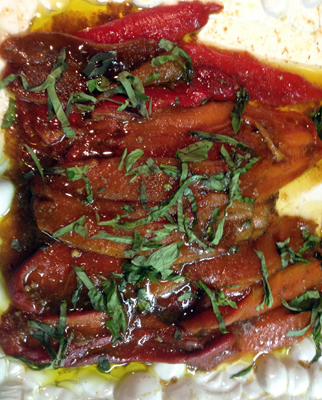 Followed up with…
Homemade Meyer Lemon Ice Cream with Grand Marnier Chocolate Sauce 
plus the two desserts brought over from the studio…
Raspberry Cookie-Dough Galette
Double Chocolate, Ancho Chile, and Almond Tart
The galette and tart were lovely, but Paul's homemade ice cream with chocolate sauce was to die for – the pièce de résistance!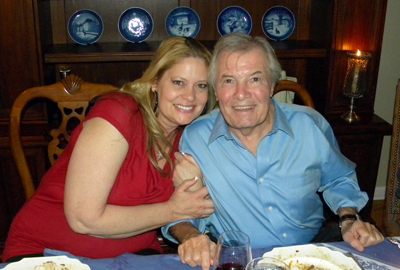 Sloane and Jacques
Every dish was as sensational as the next…. the only thing left on Sloane's and Jacques' plates are the chicken bones!  The table was cleared by the time the group photo below was taken (thank you photographer extraordinaire, Terry) but trust me, we had all joined the "clean plate club".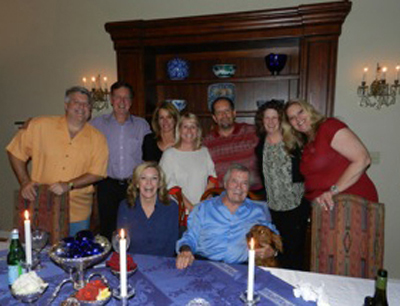 Dave, Paul, Kim, Jesse, Henry, Linda, and Sloane with Barbara, Jacques, and Charlie in front
And by now night has fallen and the "back forty" is dark. But here in the dining room there's a warm glow—of satiety, friendship, and the priceless charm of a perfect evening.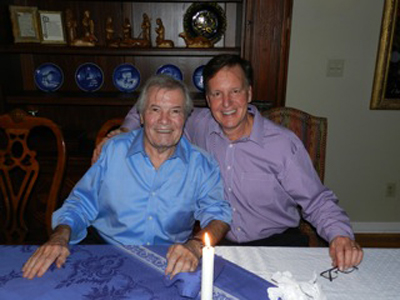 Master chefs – Jacques and Paul
Thank you Paul and Kim for the most delightful end to a most delightful day! xoxo