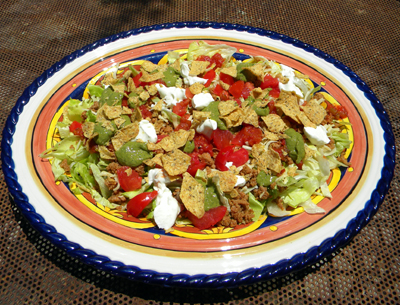 Initially, I was going to label this "new and improved" taco salad. But after going back and looking at the original taco salad I posted in November, 2010, I determined that it isn't improved, just different, and a whole lot easier!
I love this dressing, it is so smooth and creamy. Feel free to add whatever else you'd like to the salad toppings; black beans, diced red or green onion, and pickled jalapenos are just a few things that come to mind.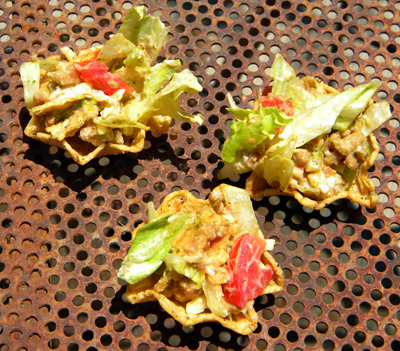 I used the multi-grain Tostitos Scoops as my chips of choice. Connor thought that was a waste of the perfectly formed Scoops, so I dumped out the package and picked out all the broken pieces, so we wouldn't waste a single "Scoop"!  Then I had the brilliant idea of making Individual Taco Salad Bites as a party appetizer. If you decide to make these cuties for your next party – be sure  to chop the lettuce finer, place the shredded cheese in the "Scoop" first, then the rest of the ingredients and fill at the last minute to keep them from getting soggy too quickly.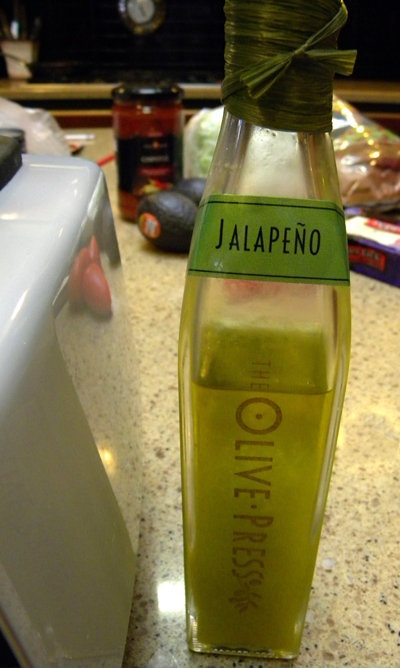 I used some of this delicious Jalapeno Olive Oil that I'd bought last year at The Olive Press store which was located inside the Jacuzzi Family Vineyards in Sonoma, California. But any olive oil you have or prefer will do nicely.
July 20, 2012 1 Comment