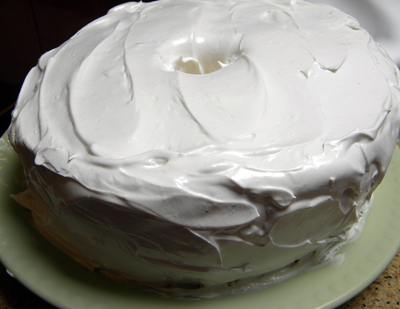 I don't know what my record high is for the number of photos in one post, but this may top them all.  Why would such a sweet, innocent, plain-Jane-looking, and in fact, angelic cake need so many (14) descriptive pictures? Because when we're talking about angel food cake, we're talking all about the "Incredible Edible Egg."
Eggs truly are incredible!  Perfection in a shell.  Magical, if you will.  They are the workhorse of the kitchen, providing the strength to bind ingredients, the power to rise and puff souffles, and the delicacy to act as the wings of an angel food cake. Simple egg whites whipping up into soft, fluffy, light as air, clouds of creamy goodness.
Egg whites are mostly protein and have no fat.  When whipped, they hold air and their volume increases by up to 7 times. When whipping whites, what you are looking for is "peaks". With soft peaks the bubbles are a little more pronounced, and when you remove the beating whisk, the peaks tip over. Stiff peaks stand up straight when you remove the whisk. Egg whites whipped to this stage are used in meringues and cakes when sugar is added.
Plus, once the sugar is added, you won't need to worry about over-beating, and the meringue can be whipped almost indefinitely… but only once the sugar is in there, otherwise it is quite easy to over-beat the whites. They will become dry and separate into clumps. Once that happens – they are ruined.
A most important note: Egg whites simply will not whip in the presence of fat. Egg yolks contain all the fat in an egg, so if you drop a little bit of yolk into your whites, carefully remove it by scooping with a bit of egg shell, this works because the shell attracts the yolk (same is true if egg shell gets into your cracked egg -shell also attracts to shell).  If there is more than a drop of yolk in the whites, just toss that egg out and start over.  And always whip with a sparkling clean whisk and bowl.
Ironically, fresh cold eggs are easiest to separate but older room temperature eggs whip quicker and can achieve a bit more volume. Personally, I separate my eggs when they are cold and don't worry about how fresh they are or even wait for them to come to room temperature, it is what it is!
The reason recipes often call for cream of tartar or lemon juice is because acid makes beaten whites more stable.
And the reason angel food cakes are inverted as they are cooling, is because this cooling method keeps the cake from collapsing or deflating once it is removed from the oven.  (I think my photo of the cake inverted on a wine bottle looks like a table lamp… but maybe that's just me.)
Hopefully all this is more than you ever wanted or needed to know about the wonderful egg  -  now on to the main attraction – The Cake!
Oh wait, one more thing… real quick… I had to make a cake ahead of time, then the kids made the cake in class.  They frosted my cake and tomorrow I will show you what we did with the cake they made – Oh my word, you will L-O-V-E IT!
June 20, 2012 6 Comments