Connor and I went to the Scottsdale Old Town Farmers' Market on Saturday morning. I got him all excited to go, telling him that we could split one of Eugenia's heavenly croissants from the Essence Bakery Cafe booth at the market and then we'd go Barrio Queen for breakfast afterwards. Who could resist once they've seen this breakfast menu?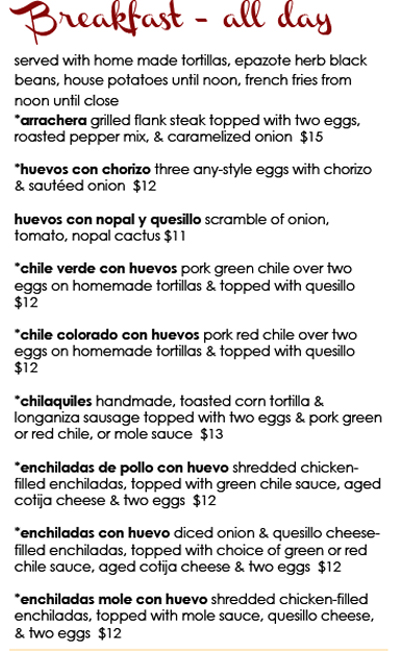 Con got up early on a weekend day and we left the house at 7:20. Only two problems – the Essence booth wasn't there on this particular Saturday and Barrio Queen doesn't open until 11:00. What an utter letdown!! We ended up eating a very nice meal at The Breakfast Club, but it certainly wasn't the same as Chile Verde Con Huevos or Chilaquiles from Barrio Queen!
Oh well, at least we bought cute round zucchini at the market and I did my best to make it up to him by creating this meal for him on Sunday.
June 5, 2012 4 Comments