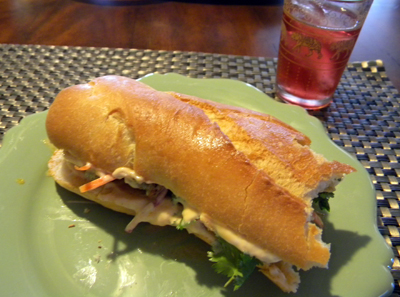 "Bánh mì" is considered one of the world's best street foods, and for good reason, it is one delicious sandwich!
Bánh mì  is the Vietnamese word for bread, or more specifically the baguette, which was introduced in Vietnam by the French during their colonial period.
Although the term "bánh mì" itself only means bread, without fillings, the term is used to refer to a type of meat-filled sandwich found in Vietnamese bakeries abroad, especially in the United States, Canada, Australia, and France where there are large Vietnamese populations.
There are countless Vietnamese flavored Bánh mì fillings- such as pork prepared in numerous ways; juicy pork meatballs (xiu mai), bar-b-que pork (thit nuong), shredded pork (bi) and pork roll (cha lua). Also popular are grilled chicken (ga nuong), sardine (ca moi), scrambled egg (trung chien) and vegetarian (chay). One seemingly surprising but very popular and common ingredient is liver pate.
For today's recipe, I'm going with my personal favorite – the Xiu Mai or the pork meatball.  I hope my friend, Tram Mai, would approve of my rendition.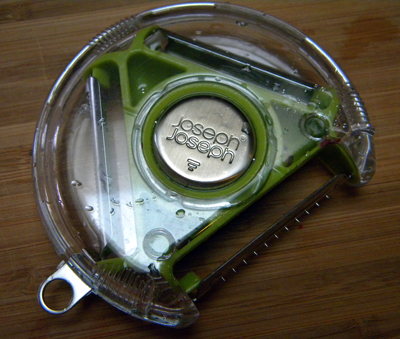 I used this cool little kitchen gadget that I'd purchased about a year ago at Sur La Table to julienne the vegetables. What's so cool about it, is that it spins to reveal three different peeling/slicing edges.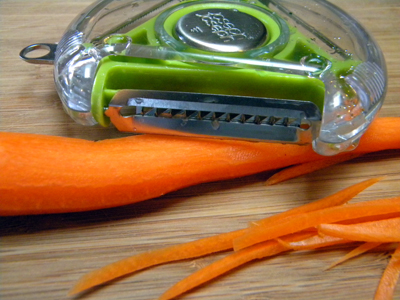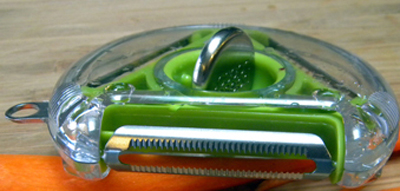 I don't recall how much I paid for it then (probably too much) but I saw it for sale at Cost Plus World Market, just yesterday. So if you want one – get yours there!
June 4, 2012 5 Comments