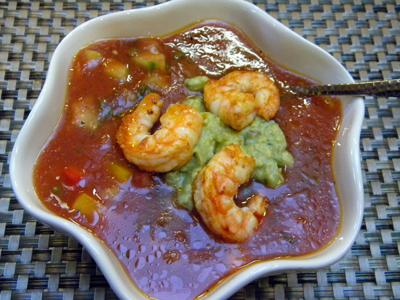 Dave does not like cold soup. Something about it just seems wrong to him. Seriously?!  I mean, it's gazpacho, what's not to like?!
First off, it's soup, for goodness sake. Soup = Love!

It's full of tomatoes. Tomatoes = Yum!

It's over 100 degrees outside: Cold Refreshing Soup = Smart!

It's called gazpacho = Fantastic word to say, especially if you say it in your sexiest Antonio Banderas voice!
Obviously, I love gazpacho!
I made it for the last class of my series and brought home a container of leftovers.  At dinner the next night, I made a bowl for myself and said to Dave, "I'm having gazpacho, would you like a bowl?"
"No, thanks", he replied.  I went about putting together our plates and as I was doing so, he suddenly noticed that there was shrimp topping my soup. "Oh, I've changed my mind, I'll have a bowl", he said.
Really? All it takes is a couple  little shrimp for you to change your bad attitude over cold soup?  He ate the entire bowlful. Whatever, men are exasperating!
May 19, 2012 2 Comments