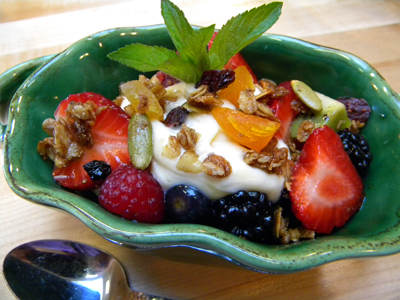 We are taking a one day break from our "Take Your Lunch to Work Week" so that I can put up a recipe I made last night for the first night of my 3 week cooking class series at Les Gourmettes.  I want my students to have all four of the links to the homemade versions of several components of this beautiful salad, at their fingertips, and not have to search for them.
The salad includes lemon curd, vanilla extract, limoncello, and granola – all items that can be store-bought or made from scratch. Mind you, while the vanilla extract and limoncello are easy to make, both take time to ferment, so if you're craving this salad and want to have it NOW, buy those two items for the time being. But also get them going so the next time you just HAVE to have it, you'll be armed and ready.
Finally, remember that any one of the four would make the perfect gift. Any lucky recipients would love you for life if you handed them a bottle or jar of homemade lemon curd, vanilla extract, limoncello, or granola. At least I know that I would!
May 3, 2012 4 Comments