Posts from —
May 2012
This is a 1962 advertisement for Aunt Jemima pancake batter.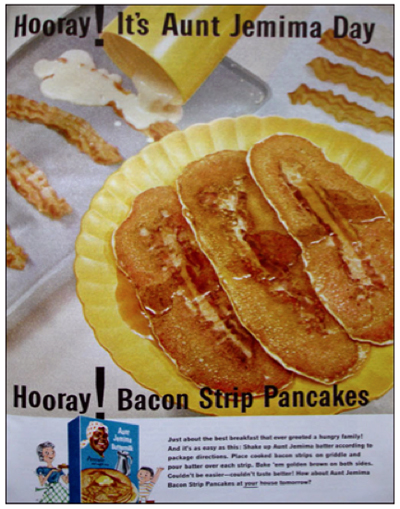 It reads:
"Just about the best breakfast that ever greeted a hungry family! And it's as easy as this:  Mix up Aunt Jemima batter according to package directions. Place cooked bacon strips on griddle and pour batter over each strip.  Bake 'em golden brown on both sides. Couldn't be easier – couldn't taste better!  How about Aunt Jemima Bacon Strip Pancake at your house tomorrow?"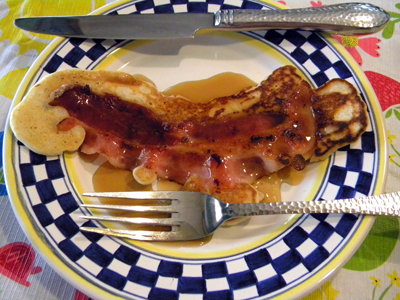 We made these in our breakfast themed class this week and they were as popular today as I imagine they were 50 years ago!
I have a plethora of peaches and a ton of tomatoes taking up precious room in my refrigerator – what to do?  There is only one thing to do and that is to make my Famous Peach Salsa. I was shocked to discover that I hadn't posted this recipe in the three-plus year lifespan of this blog.  How is that even possible? I've been making this salsa since 1993.  The photo above is of me making it at the 1996 Duncan Family Farms Peach Festival. Gotta love the overall shorts I'm sporting there!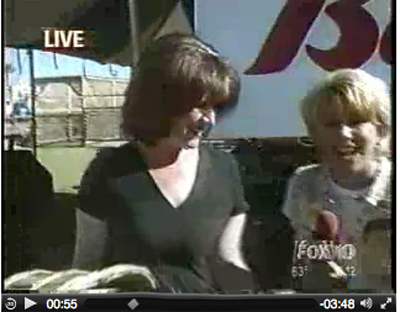 And if you click on THIS LINK, it'll take you to a news video of the 1999 Duncan Family Farms Cool Corn and Melon Celebration, where you can watch me take my peach salsa recipe and turn it into melon salsa.
Yeah, I've been rocking this salsa for nearly two decades!
And one of the people who loves my salsa the very MOST is BFF, Peggy.  She came over to not only enjoy the salsa but to finally "do something" with the crates that we acquired back in February. What crates, you ask?  Remember - THESE CRATES!
I turned mine into a rolling side-table and Peggy and I turned her two crates into rolling herb gardens… via Pinterest.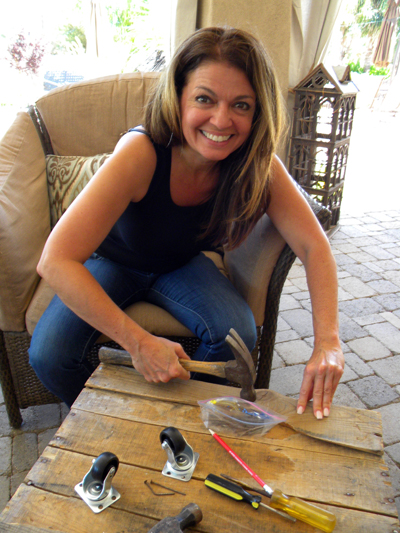 [Read more →]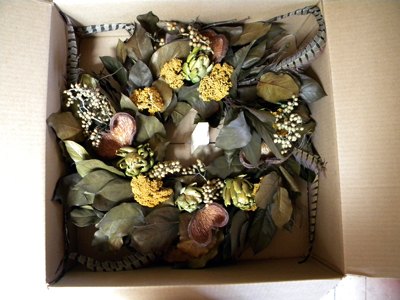 This is one of the two wreaths that had been hanging on my front doors ever since October 2011, well with the exception of the month of December when Christmas wreaths were briefly there.  It had become somewhat of an embarrassment when spring hit, but I had tossed my old worn out spring/summer wreathes and I just couldn't find new ones I liked to replace them. So the very "fallish" wreaths remained, pheasant feathers and all!  Until Saturday, that is. On Saturday, the Fed Ex truck delivered the two new wreaths I found on One Kings Lane!  So, I packed up the fall wreaths and hung out the new ones, just in time for summer cooking classes.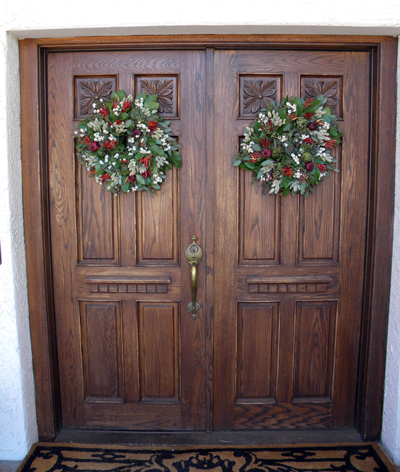 From a distance, they may look a little "Christmasy", all red and green. But up close…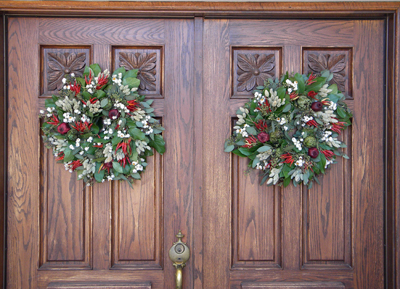 … come closer…

It's the unofficial start of summer and time to wear your white shoes, linen, sandals, straw handbags, seersucker, etc.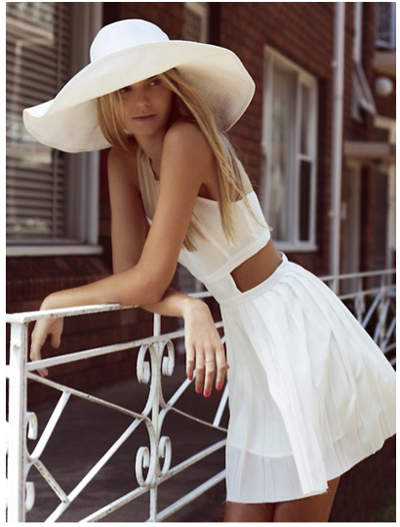 And if you're lucky, maybe you can take off to white sandy beaches…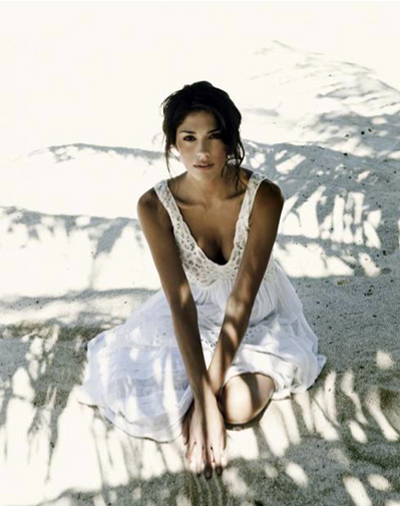 If not, how about cooking up some white food?  Need a little inspiration? I've got more than two dozen ideas for you!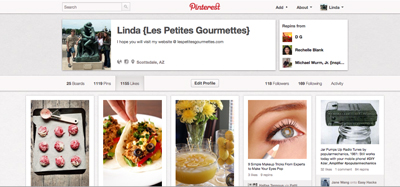 I needed to think of a quick meal to throw together in a crockpot – when suddenly I remembered that I had seen and then "liked" a pulled pork sandwich recipe on Pinterest. So I went back through my list of "likes" – clicked on the picture and it took me directly to the recipe on the Better Homes and Gardens website.
This is exactly why I love Pinterest!  It was even easier than if I'd cut out the recipe from the actual magazine. Because then I would have had to remember just where I had stuck that clipping, which would not have saved me any time at all.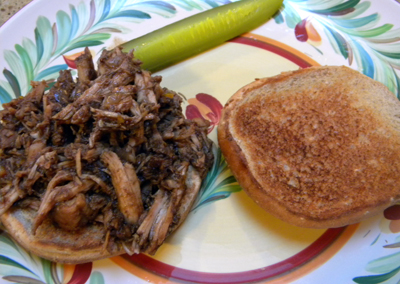 I changed a few things from the original BH&G recipe, so we'll call this one, "inspired by"…
… summer kids cooking classes begin on Monday!  I spent the entire day yesterday shopping, cleaning, clearing off the kitchen counters, pulling out the school supplies, and generally working my rear off!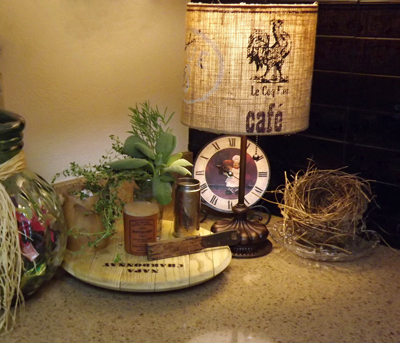 Remember how excited I was back in July, when I set up my cute little vignettes around the kitchen?

Yeah, those had to go, to make room for the 5 cooking stations for the 10 kids who will fill the kitchen, beginning at 10:30 on Memorial Day.
Here is what my counters look like now.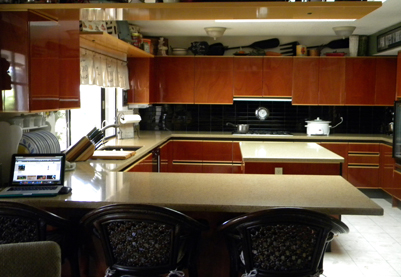 Seriously Boring!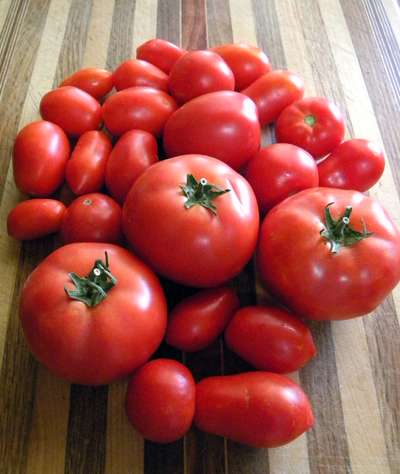 My cup runneth over… my three tomato plants are producing between one and two dozen tomatoes each and every day.  It's hard to keep up!
We are eating tomatoes at just about every meal, every day; under a poached egg on an English muffin for breakfast, on sandwiches for lunch, and mixed into something or another for dinner.  This pasta dish was especially popular with my guys.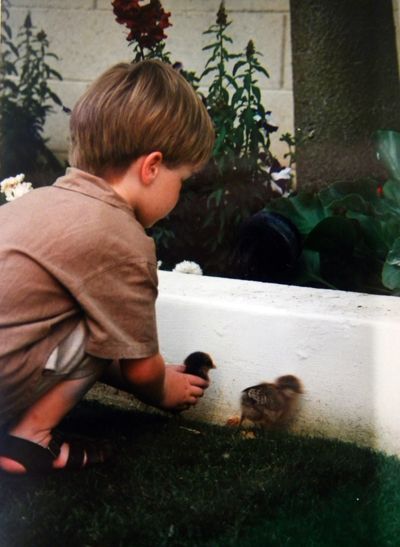 Twenty-one years ago today, at 12:59 pm, my sweet love, Connor, was born.  He arrived 3 weeks early, weighing in at 6 pounds 4 ounces and was 18 1/2-inches long.  Now my baby boy is 21 years old and 5 feet 10-inches tall.
Time flies when you're having fun!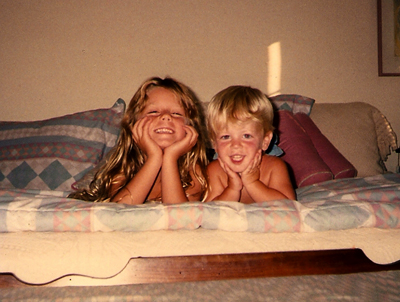 I hope you'll indulge me while I post just "a couple" of my favorite photos of my favorite boy!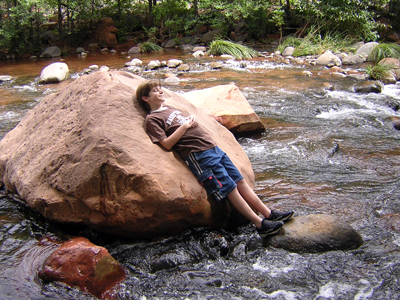 Chilling on the rocks in the center of Oak Creek in Sedona, AZ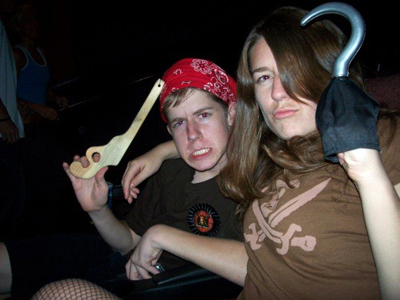 Midnight showing of Pirates of the Caribbean with big sister, Marissa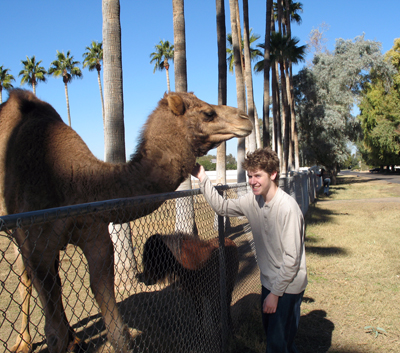 With Clyde the camel in Paradise Valley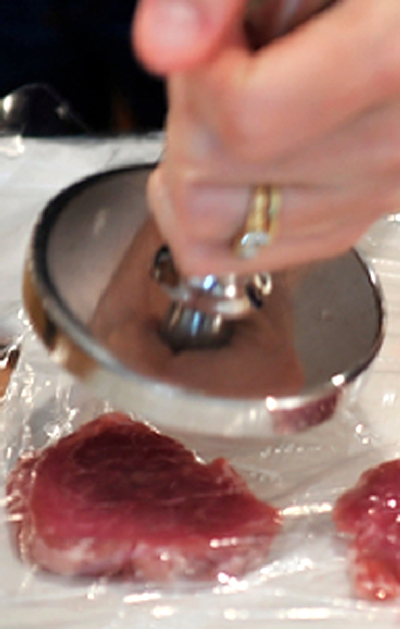 Several techniques help keep these pork chops tender and juicy. First, pounding the chops thin helps the acid (vinegar) penetrate the meat right to the center. The vinegar not only acts as a tenderizer but also adds a delectable level of flavor. Next, by dredging in flour, egg, and panko – the juices are sealed in and a crispy delicious crust puts these chops over the top. Lastly, by using a instant-read meat thermometer, you are sure to not overcook.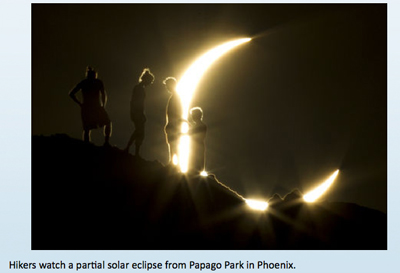 Photo by Michael Chow/AZCentral.com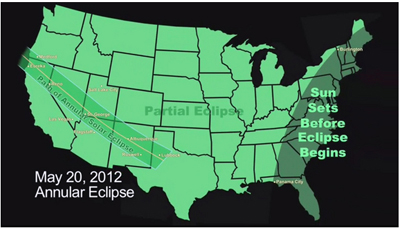 Sunday's solar eclipse transported me back to my childhood years at Navajo Elementary School.  And to memories of when there was an eclipse…. back in the "old days".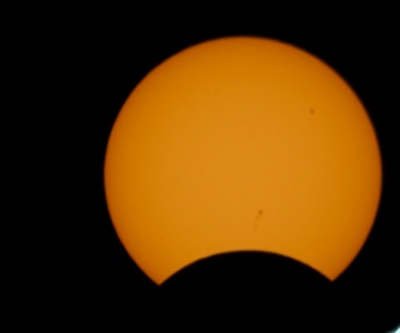 After multiple severe warnings about NOT looking at the sun, we'd all take our two pieces of white paper outside, and catch glimpses of the eclipse through a pinhole in one sheet of paper, projected onto the other.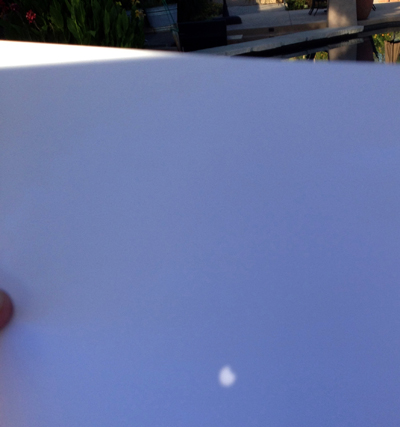 So, I did just that. I took two pieces of white paper, a pinhole in one, and "watched" the eclipse.