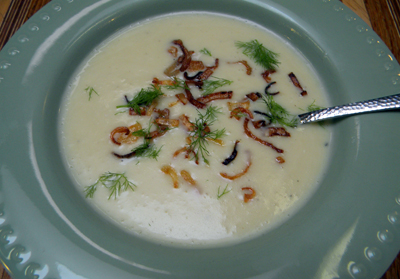 It's been raining for the last few days, so the weather is perfect for a steaming bowl of soup. But you already know how much I love soup, so really it doesn't need to be raining to be the perfect day for me!
As I was working on the computer yesterday, I took a break to check in on  Facebook, and right there on my wall, I saw this post from Chelsea's Kitchen (yes, the same same Chelsea's Kitchen that serves THIS amazing Brussels Sprout Salad).
"Chelsea's Kitchen is the perfect place on a rainy day to get some good 'ole comfort food. Try our potato fennel soup with crispy shallots and parsley!  It's amazing!"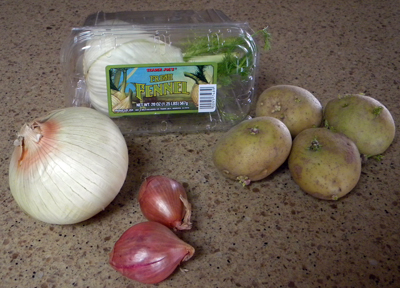 Mind you, I had no intention of driving the 9 miles, in the rain, to eat a bowl of soup and to lunch all by myself.  But… I did have a fennel bulb, potatoes, and shallots in my own kitchen.  Although I don't know if this soup is anything like the one served at CK… I can assure you, it too is amazing!
December 14, 2011 3 Comments