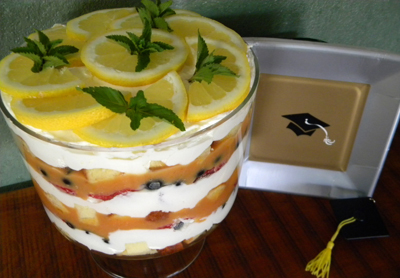 Proud! That is what I am today! My precious baby girl graduates from the University of Arizona today with a Journalism major and Creative Writing minor. She has been a hard-working dedicated student ever since kindergarten 17 years ago. Heck, since her "mini-threes" days in preschool! So yeah, I am a proud braggart mom, and I will not apologize for that, at least not today!
After the ceremonies, Dave and I are taking Marissa, Alberto (boyfriend), Grandpa Gene (my dad), and Connor (treasured baby brother) out to dinner to J Bar. You may recall that I posted about the amazing nachos we had there earlier this month(May 2). Well Marissa has been craving them ever since reading that post, and whatever she wants, she gets today!
After dinner, we'll be heading back to her house where she and her four beautiful roomies (see picture below for the proof of said beauty!) are hosting a dessert party for all their families. The girls requested I make a trifle they tasted back in October that was posted here.  I changed it up a bit for the occasion. The lemon curd is now a lemon-cherry curd and there is a fabulous addition – cream cheese filling. Expect more mama boasting and pictures tomorrow!
May 14, 2010 1 Comment