Posts from —
January 2010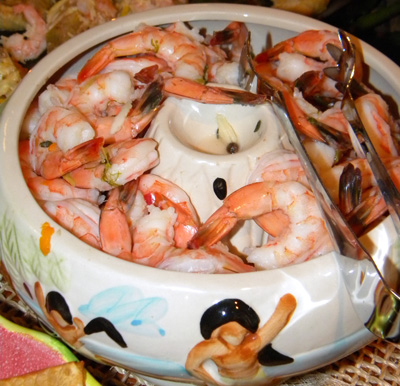 What is it about shrimp on an appetizer buffet that draws people like flies? First of all, it is the quintessential party food. Shrimp are the world's most popular shellfish. Low in calories and saturated fat; high in protein, vitamins D and B12, iron, and omega 3. Plus they have anti-inflammatory qualities. But something tells me that none of that matters to the guy who is also known as "the shrimp hoarder". He will block your path to the bowl of shrimp because he is worried that if you get even a couple of the tasty morsels, he won't "get his". Or how about the woman, who in April 2009, called 911 to report that she didn't get as much shrimp as she wanted in her fried rice at a Texas restaurant? Now that's harsh!
Will, Mike and "Rastafarian" Scott at our Progressive Dinner
As Pvt Benjamin Buford 'Bubba' Blue said. "Anyway, like I was sayin', shrimp is the fruit of the sea. You can barbecue it, boil it, broil it, bake it, saute it. Dey's uh, shrimp-kabobs, shrimp creole, shrimp gumbo. Pan fried, deep fried, stir-fried. There's pineapple shrimp, lemon shrimp, coconut shrimp, pepper shrimp, shrimp soup, shrimp stew, shrimp salad, shrimp and potatoes, shrimp burger, shrimp sandwich. That- that's about it." – 1994 Forrest Gump.
These Jamaican shrimp fit into Bubba's description – they are boiled…
Sliders are irresistible as part of an appetizer buffet. Small and easy to eat while standing, they are the perfect casual party food. If you want to prepare the sliders ahead, place patties on the grill or grill pan and just "mark" each side. Transfer to a baking sheet, allow to cool at room temperature for about 15 minutes, then cover with plastic wrap and refrigerate.  Toast the buns ahead of time, place on another baking sheet, cover with plastic wrap and leave out at room temperature. About 30 minutes before you are ready to serve, preheat oven to 400 degrees, finish cooking the patties for 12 minutes. While the patties are in the oven, prepare the buns by spreading on mayonnaise and stacking on the onion, tomato, and lettuce. When the sliders are completely cooked, just assemble, put in decorative picks, cut in half, place on a platter and you're ready to entertain!
In the picture above, you might notice the carrot-pepper "palm trees" – cute, aren't they? Easy to make too, just peel the carrots, then place in ice water to crisp them up.  Cut the peppers as pictured below, then use toothpicks to hold the palms together in a cabbage half.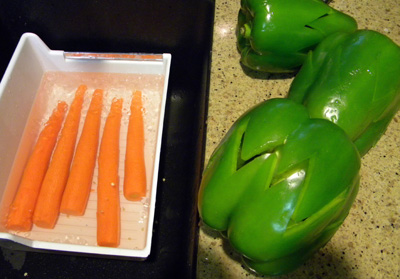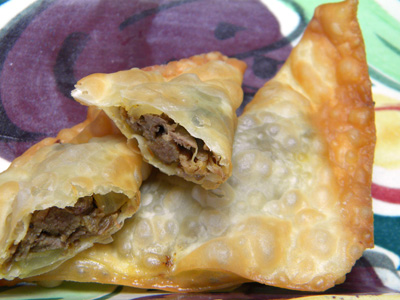 The question – What is jerk… not in life (we all know at least one of those!) but in cooking?  The answer – Jerk is a style of cooking native to Jamaica. Jerk seasoning mostly depends on the inclusion of two items: allspice and Scotch bonnet or habanero peppers. Other ingredients may include cloves, cinnamon, green onions, thyme, and garlic. When serving a crowd, I often substitute jalapeño for the habanero, since you never know what people's tolerance is for overly spicy foods.
The shredded beef that I used was the leftover pot roast from a post from a couple days ago. If you don't have such a thing hanging about, most grocery stores sell prepared pot roast in their meat department or deli.
When assembling the dumplings, lay about about one dozen of the wrappers on the counter at a time, place the filling in the center of each, but only brush and seal 3 or 4 at a time. The dumplings may be made up to one day ahead. To do so; lightly sprinkle a baking sheet with cornstarch and place the filled and sealed dumplings on the sheet, lightly sprinkle the dumpling tops with more cornstarch and cover with plastic wrap. Repeat with another layer or two, sprinkling each with the cornstarch to keep them from sticking. Refrigerate until ready to fry.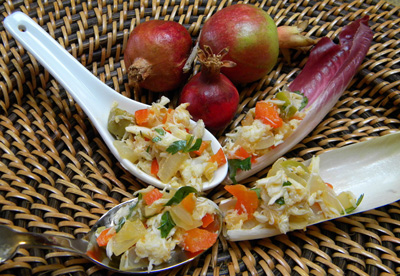 Today is completely devoted to shopping, prepping, cooking and setting up for tomorrow night's neighborhood Progressive Dinner. I've got at least a portion of the five different appetizers that I am making, done. And parts of the soup and side I'm providing to one of our dinner hosts, so that feels good. The tiki torches are set up in the yard, now it just needs to stop sprinkling out there so that I can wipe down all the outdoor furniture. Come on "Valley of the Sun", work with me!
The Caribbean Crab Salad is finished – that shall be today's post. This salad is easy and quick to pull together, especially if you already have the pasteurized crabmeat on hand. It can be found at Costco and some grocery stores. Since the crabmeat is pasteurized, it can be purchased now and stored in the refrigerator for about 9 months (there is an expiration date on the bottom of the container.)
The porcelain spoons are inexpensive and can be found at Asian markets. The metal spoon pictured was purchased in a set of 12 at Crate and Barrel. There will be more Jamaican party recipes to follow for the next several days…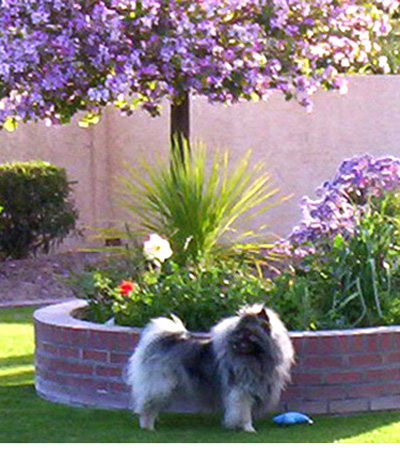 Today I had to put my sweet dog, Tanqueray, down. He was such a love – Dave, Marissa, Connor and I will miss him so much. Rest in Peace beautiful Tank. xoxo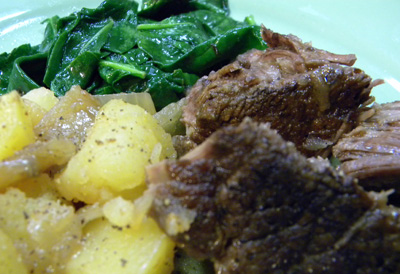 Once or twice a year our neighborhood has a Progressive Dinner. Here's how it works – a notice goes out to all 118 homes in the community. You may sign up to be a "Dinner Host", which means you do not have to cook, just set up to host dinner for 10 people. Or, you sign up to cook, in which case you are then assigned to provide either an appetizer, an entree for 10, soup or salad plus a side for 10, or a dessert. Those dishes are dropped off at the "Host Houses". Each couple brings 1 bottle of red wine and 1 bottle of white wine to the "Appetizer House" where everyone first gathers. Names are drawn randomly during appetizers and we all disperse to the various host homes for dinner. The wines travel along to the dinner portion of the evening. Then we all gather back together at a specific house for dessert (remaining wine – in tow). You and your significant other stay together if you are a "Dinner Host", otherwise the two of you are split up during the dinner portion of the evening. Past themes have included; Italian, Mexican, Western, Mardi Gras, Valentine's, and Tacky/White Trash (not the best food- think Kentucky Fried Chicken, Pigs in a Blanket, Chili in a Frito bag- but the most fun ever! Pictures below.)
Our next Progressive is this Friday and the theme is Jamaican. Appetizers will be at our house and even though hosts are not required to cook, obviously, I still do. One of the dishes I plan to make Jamaican Beef Dumplings. I found an amazing price on a pot roast at the store today and decided it would be perfect to use for the shredded beef. I cooked up the roast for dinner  and will now use the rest of the beef for the dumplings, that recipe will post in a couple days.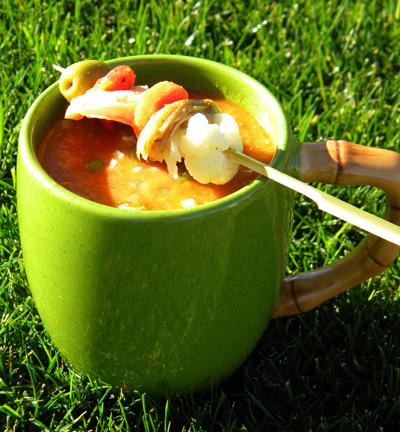 I have a confession…I love Campbell's condensed tomato soup. I mean, I really love it! I don't know if it a childhood thing, or a sick little kid thing, but sometimes I just have to have a bowl of it. It is the only condensed soup in my pantry at all times, I feel a bit anxious when I use the last can. It must be made mixed with a can of milk, not water -eeww! And if I'm sick and there isn't a can in the house… someone (who is not me!) is getting in the car and going to the store to get me some, and I mean now!
Whenever my brothers, sister, or I were sick; we were served a bowl of tomato soup with Saltines. No chicken noodle soup for ailing people in our house.  Or when we'd walk home from school in the rain and be drenched to the bone; out came the saucepan (this was pre-microwave, kids!), the milk carton, the familiar red and white can, and a sleeve of Saltines – all better!

I found the Campbell's sign, pictured above, at a flea market years ago and didn't even look at the price, it was mine! I would have fought off anyone who tried to get to it before me, not that anyone did, but I was ready for a fight! For today's recipe, I'm not going to give you the directions to make my beloved soup, those are on the back of the can. Instead a sophisticated tomato – Bloody Mary Soup.  If you're making it for minors, just leave out the vodka – Virgin Mary Soup for them. This is not a gazpacho, a portion of some of the vegetables are sautéed and the whole thing is pureed to a smooth mixture. It is wonderful served hot, cold, or at room temperature. I'm giving you various ways to serve it with a variety of garnishes. As always, these are just suggestions, mix them up or dream up your own toppings and report back to me.  Tomorrow's post will use a can of Campbell's tomato, so come back and check it out, until then…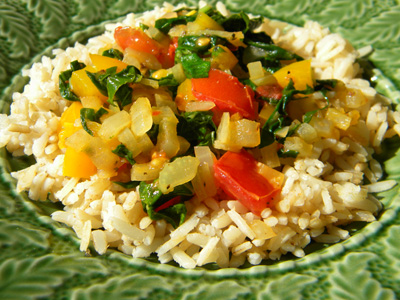 My darling daughter, Marissa, requested I post some yummy and easy sides. How about an outline – sort of a guide on how to make quick improvisational sides anytime you want? I made this dish with what I had on hand in my produce drawers. You begin by gathering your hard vegetables together; such as onion, carrots, celery, bell peppers, fennel, parsnips, squash, etc. Clean and chop.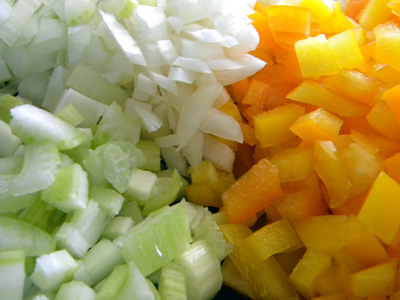 Next pull out your soft vegetables; things like spinach, mushrooms, tomatoes, leftover cooked potatoes, etc. and prep them. Sauté the hard vegetables together until soft, add in the soft veggies and season, that's all there is to it! You can add in other items too, such as canned drained beans, chickpeas, frozen corn, chopped olives or artichoke hearts…getting the idea?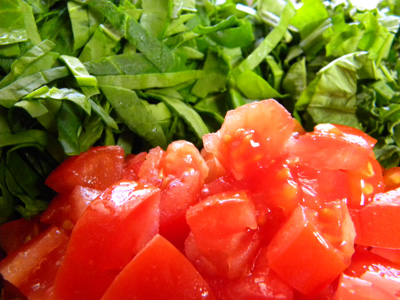 Once you have the vegetables cooked, use them in pastas, salads, quesadillas, wraps, or on their own as a nutritious, colorful side dish.  I like to keep a small bowl on hand to add into scrambled eggs for a quick, satisfying, and "no-brainer" breakfast. (because who wants to think too hard in the morning?)
Here, I am adding them to some brown rice as a side. Instead of the rice, mix it up by serving on top of couscous or quinoa. Also pictured at the bottom, I've chilled the rice and veggie mixture, formed it into a patties (mix in a tablespoon or two of sour cream, mayonnaise, beaten egg, crème fraîche, or soft cream cheese to help bind the mixture, if needed). Bread the patty with a mixture of Parmesan cheese and panko, chill the breaded rice cakes for a couple hours, then cook in a little olive oil, to brown and crisp them, and serve on their own or with a little bit of hot marinara sauce. Versatile, right?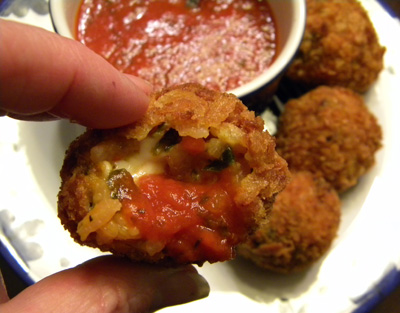 Until about two weeks ago, I had never heard of arancini, but since then I've been exposed to it on two separate occasions. The first was when I stumbled upon the blog and arancini was the featured recipe that day. The second was just the other night while assisting Chef Giuseppe Mazzocchi for his cooking class at Les Gourmettes. Giuseppe is a charming man who is from Tuscany and made the most wonderful risotto (He also pronounces my name "Leeenda", which I love!). He mentioned to the class that any extra risotto could be used to make arancini… turns out arancini are fried rice balls filled with sauce, mozzarella, and/or peas. The names come from the shape, which resembles an orange. The Italian word for orange is arancia and arancini means "little oranges".  You can even make a dessert arancini filled with chocolate and using a sweet version of risotto – YUM!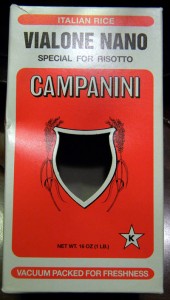 Giuseppe told us that in Tuscany they prefer either Carnaroli or Vialone Nano rice to the Arborio rice that Americans generally use for risotto.  All three are short-grain rices, but the first two produce a creamier risotto and each grain holds its shape better than Arborio. You should be able to find all three at an Italian market or deli, and locally at A.J.'s. Even though each class had 16 students, there was so much risotto left that I was able to make 48 arancini, 44 of which I how have in my freezer! I'm providing you with Giuseppe's risotto recipe, but any risotto will do. Even some you bring home in a "doggy bag" from a dinner out some evening.  It is imperative to make the arancini with cold risotto, so leftovers are perfect.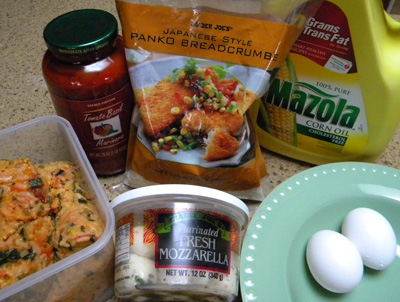 [Read more →]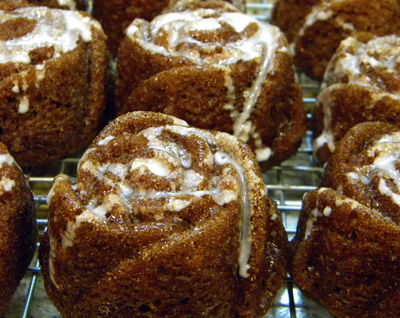 It's been raining here in Arizona all week. Yesterday and this morning have been especially harsh; flooding, high winds, closed airports, several feet of snow up north, (plus a leaking roof for me!) – just crazy stuff for our dry desert state! This weather makes me want to bake and the chilliness and dark skies make pumpkin and spices seem like the perfect thing to pop in the oven.  I was planning to make a regular Bundt cake, but while digging through the cake pans, I found my mini-rose shaped Bundt pan. These pretty little cuties bring a little warmth and sunshine to an otherwise cold and rainy day.