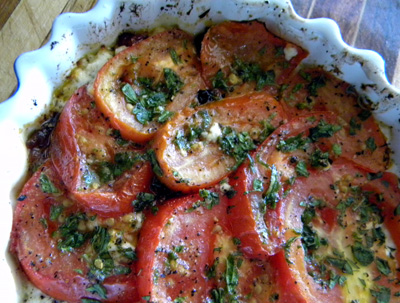 The second appetizer of the day for Thanksgiving is just as easy and quick as the first.
Hot Feta and Tomato Spread
16 ounces crumbled feta cheese
2 tablespoons, drained and chopped sun-dried tomatoes
5 plum (Roma) tomatoes, cut crosswise into thin slices
2 tablespoons olive oil
1 tablespoon plus 1 teaspoon finely chopped fresh oregano leaves
Freshly ground black pepper, to taste
Pita chips
[Read more →]
November 19, 2009 2 Comments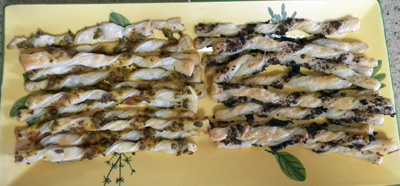 With all the dishes you'll be making for the big Thanksgiving feast, you need a couple easy, quick, and tasty appetizers to go with the crudites. One of the quickest and easiest products to use is puff pastry.
Puff pastry can be purchased in the freezer section of the grocery store, usually near the pie crusts. Most grocery stores carry the Pepperidge Farms brand. Trader Joe's also carries their own signature brand of puff pastry (you can pick up the tapenades there too). Both brands have two sheets of pastry per package, only one is needed for this recipe. Wrap well and refreeze the second sheet for future use.
[Read more →]
November 19, 2009 2 Comments