Before we get to the second poached pear recipe – a momentous occasion – for me, at least.  This is my 100th post, never imagined I'd get here when I began my blog back in August! Oh Happy Day!  OK, enough self congratulatory for now and on to the work at hand… savory poached pears…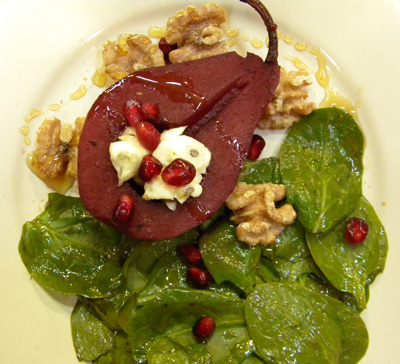 Pears were poached in a sweet liquid and used for dessert in yesterday's post.  Today, these wine poached pears with be used in a savory salad. The flesh takes on a gorgeous deep red color.
Walnut oil is used for the vinaigrette, but olive oil can be substituted. Nut oils should always be stored in the refrigerator. Just like the nuts they come from, the oils goes rancid quickly at room temperature.
The "seeds" of a fresh pomegranate are called arils and they should be showing up in markets since it is pomegranate season, take advantage and purchase them now, the season is short. The good news – arils can be frozen. To freeze, spread arils in a single layer on a wax paper lined baking sheet. Place in freezer for about two hours. Transfer frozen arils to a labeled and dated zip-lock bag. You can easily remove the amount you need when desired and return the rest quickly to the freezer.  They will keep for about 6 months.
This salad is beautiful for any of the upcoming holidays and the poaching liquid can be saved for an upcoming Thanksgiving recipe for Pearl Onions and Wild Mushrooms in Red Wine Sauce, which will be posted later this week.*
[Read more →]
November 18, 2009 1 Comment