Posts from —
November 2009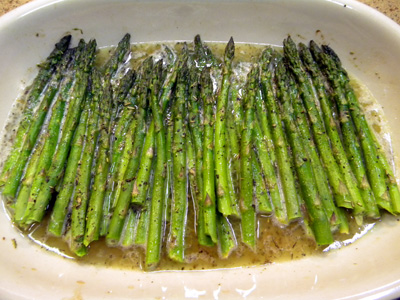 After all the cooking last week and trying to get through all those leftovers, we're overdue for something quick and fresh.
Herbes de Provence or Provençal herbs is a mixture of dried herbs from Provence invented in the 1970's. The mixture typically contains thyme, savory, fennel, basil and lavender flowers. Thyme is the dominate flavor.  The asparagus can be easily substituted with blanched sugar snap peas, green beans, broccoli or cauliflower.
[Read more →]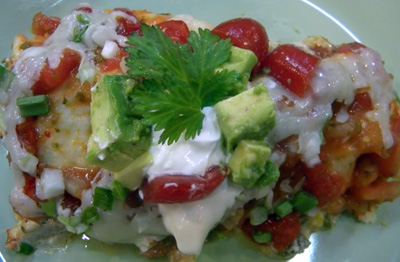 At last the day has arrived – whatever leftovers haven't been eaten, given away, or frozen; are going in the trash. Marissa and Connor head back to their respective universities this evening. Care packages are going with them and then I will have my refrigerator back!
This recipe is a perfect example of when to use light sour cream and cream cheese. There are so many other prominent flavors going on here, that you'll never taste the difference.  When the sour cream or cream cheese is the main flavor, then I prefer to use the real thing, because you can truly taste the difference. As for the fat-free versions – not a good choice – they don't bake up as well. When a recipe calls for canned green chilies, always go for the whole chilies and dice them yourself. They are better quality than the "already diced", and it takes only seconds to cut them up.  "Good-bye turkey, see you next November!"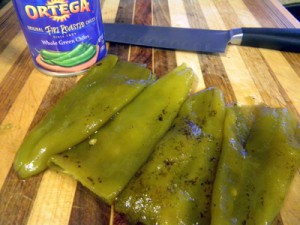 [Read more →]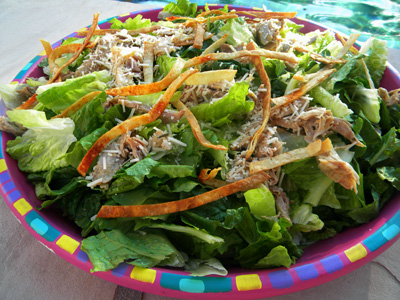 So here are my feelings about Thanksgiving leftovers – I love having mass amounts of white meat leftover for turkey sandwiches, and it wouldn't feel like Thanksgiving without all the fabulous turkey stock I make from the carcasses, but the rest of it… not so much!  To that end, I always make two turkeys, one is roasted the traditional way, the second is always grilled or smoked. This year I wound up with 36 cups of stock, happy day!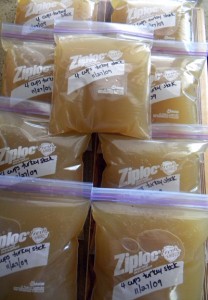 To use up all that dark turkey meat, I just make our family favorites and add in the turkey.  Our all-time favorite salad is another of Barbara Pool Fenzl's recipes.  It comes from her 1994 Southwest The Beautiful Cookbook. I've made very few changes to the recipe over the years… instead of whisking by hand, I use a food processor for the dressing.  Since the original recipe makes about 1 1/3 cups of dressing, I double all the other fixings so that all that amazing dressing can be utilized, it would be shameful to waste even one drop!  Also in the original, the tortilla strips are dusted with chili powder prior to frying. Instead I salt and dust them immediately after removing from the hot oil so the seasoning really sticks to the strips. And with all this turkey on hand, it quickly becomes a perfect main course salad for a busy weeknight family dinner.
[Read more →]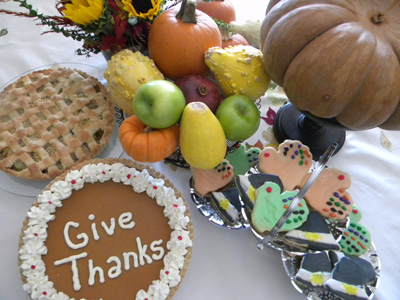 Today is my friend Kim's birthday.  Kim is the daytime assistant at Les Gourmettes Cooking School (I assist for nighttime classes).  She is a talented chef,  yoga instructor, wife, mother to four, and a wonderful friend - Happy Birthday, Kim!
Above is a picture of our Thanksgiving dessert table; the apple tart, pumpkin pie, plus pilgrim hat and turkey sugar cookies. Hope your Thanksgiving was a wonderful mix of family, friends, and good food!  Here is a recipe to use up some of your leftover turkey and mashed potatoes. It is equally good with leftover stuffing as the bottom layer or mashed sweet potatoes.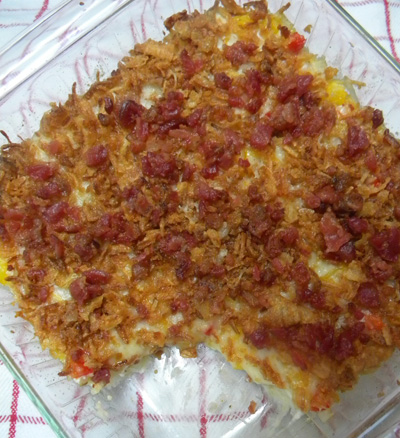 [Read more →]
Happy Thanksgiving to You and Yours from Me and Mine!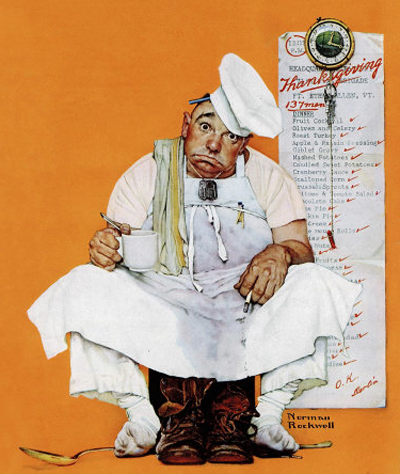 A perfect Thanksgiving side dish inspired by a recipe in a 2002 issue of Bon Appetit. Pictured above are the two main parts of the dish, the creamy corn mixture and the topping consisting of breadcrumbs, bacon, green onions and fried onion rings. They may be made a day ahead, covered and refrigerated separately.  Also pictured is a package of the instant or "quick-cooking" grits used to thicken the corn mixture.
The fried red onion rings are delicious and well worth the effort, but if you wish to take a shortcut – substitute with the prepared fried onion rings you find in the grocery store. You know, the ones used in the classic Green Bean Casserole. If used, eliminate the 1/4 cup flour, the red onion, and the 1/2 cup olive oil from the ingredient list and also eliminate the 3rd paragraph from the procedure portion of the recipe. Use 1 1/2 cups purchased onion rings in their place.
Triple Onion Creamy Corn Gratin with Bacon
6 bacon slices, chopped
1/4 cup all purpose flour
1 medium red onion, peeled and thinly sliced into rounds
1/2 cup olive oil
2 cups Panko breadcrumbs
1 bunch green onions, thinly sliced (white and green portions), divided
2 tablespoons unsalted butter
1 large white or yellow onion, peeled and diced
8 cups frozen corn kernels (about 2 1/2 pounds), thawed
2 cups whole milk
1 cup whipping cream
1/4 cup quick-cooking grits
1/4 teaspoon cayenne pepper
1 packed cup grated Monterey Jack  or Pepper Jack cheese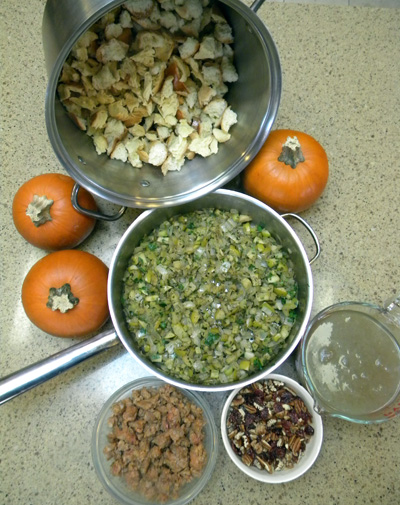 This is a gourmet take on my grandmother's traditional sage stuffing. She did not add the apples, sausage, pecans, or cranberries. It took her son, my dad, a couple years to get used to my version, but now I think even he would miss those yummy additions – although he probably won't admit it! The picture above is all the components, prepared and ready to put together before stuffing the bird (excluding the pumpkins, of course, those are for decoration!). The dominating flavor is still the sage, so be sure not to skimp on that. And remember to tear and dry out the bread at least 24 hours ahead of time.
[Read more →]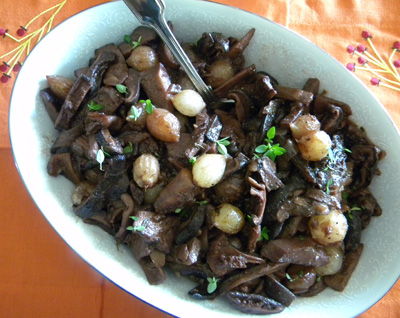 Recycling is a wonderful thing… not only with paper and plastic, but with food too. Of course, the most basic form of food recycling is reusing leftovers, taking the leftover beef from a roast and making burritos, for instance.  Or in this case, using the red wine poaching liquid from the poached pear post on 11/18/09 and using it to flavor this wonderful Thanksgiving side dish. Don't fret if you didn't make the poached pear recipe but want to make this, just use red wine in place of the poaching liquid.
I'm using frozen "petite whole onions" also known as pearl onions for this recipe.  Until about a month ago, I did not even know that pearl onions were sold peeled and frozen. What a find, all these years I've been meticulously boiling and peeling them myself!
The soaking liquid for the dried mushrooms is also reused here.  If you have any left after using the 1/2 cup asked for in this recipe, freeze it and use to enrich sauces or deglaze pans in the future. And be sure to recycle those Thanksgiving leftovers too! I'll post plenty of ideas after  Thursday.
[Read more →]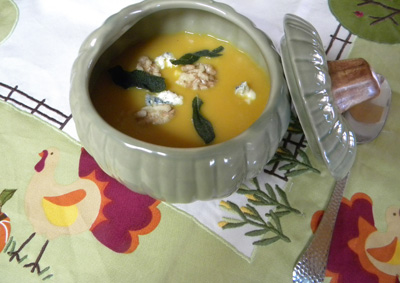 This is our traditional Thanksgiving soup. Back in the day, I went all "Martha" and hollowed out miniature pumpkins and served the soup in those. Hey, it only took about 4 or 5 hours to cut and hollow out 8 of those little guys! I am thankful that I eventually recovered my mind and my sanity and purchased and now use darling orange and green ceramic pumpkin bowls instead!
Butternut squash can be a difficult to cut, but luckily many stores (including Costco and Trader Joe's) sell packages of already peeled and cubed squash. If you can't find them, look at the "Tip Index" on this site and learn how to correctly (and safely) cut a butternut squash.  Save the oil the sage leaves are fried in to use in place of olive oil for just about any Thanksgiving recipe, especially those that have herbs included in them or to saute vegetables.
[Read more →]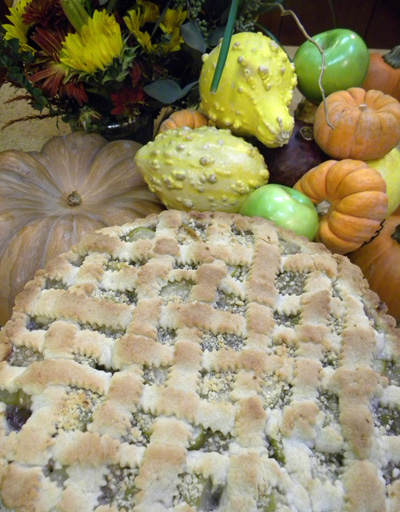 Just about all the dishes I make for Thanksgiving are "must haves" from my family. There can be no variations in our traditional stuffing, we must have butternut squash soup served in our individual pumpkin bowls.  There has to be pumpkin pie – plain old pumpkin pie – nothing fancy and if we do not have the jellied cranberry sauce from the can, it is not Thanksgiving!  I can make another gourmet cranberry sauce if I wish, but I'll be the only one eating it!  And we must have to this outstanding apple tart!  I've been making it annually for at least 12 years since it was introduced to me by Barbara Pool Fenzl of Les Gourmettes Cooking School, where I have worked for the past 21 years. It makes me feel old to say that aloud!  Old, but very proud to work with and have such an amazing, giving, and loving person, as Barb, to call my dear friend and mentor.
In addition to the fact that it comes from Barb, there are several things that make this particular apple tart so special. There is the thin layer of raspberry jam topping the bottom crust, and the gorgeous lattice top; but mostly it's the irresistible cookie dough-like macadamia nut crust.
Because of that cookie dough texture, it may seem difficult to roll out, but don't fret – if it rips, just piece it together or press it into the tart pan, it all melts back together and will turn out perfectly – perfectly beautiful and delicious!